The use of a gentamicin-collagen sponge (Garamycin sponge) with NPWT for the treatment of difficult wounds in patients with Chron's disease. A case series
Bartosz Jan Grzechulski

General, Endocrinology, and Gastroenterologic Surgery Clinic, ul. Przybyszewskiego 49, 60-355, Poznan, Poland

Tomasz Banasiewicz

Department of General, Endocrinological Surgery and Gastrointestinal Oncology, Poznan University of Medical Sciences, Poznan, Poland
Keywords:
NPWTi - Negative pressure wound therapy with instillation, NPWT - negative pressure wound therapy, gentamicin-collagen sponge, Crohn's colitis
Abstract
Negative pressure wound therapy (NPWT) is extremely important in the treatment of difficult wounds in patients with proctological diseases, including patients with Crohn's colitis. Despite the many advantages of this therapy, it has some limitations, including the lack of bactericidal activity. Hence, NPWT is combined with antibacterial products. One of them is the gentamicin-collagen sponge, presented in the three cases described below. The combination of the gentamicin-collagen sponge with NPWT may be beneficial in difficult wounds with a high risk of infection, and also in patients with impaired wound healing.
References
[1] Zimlichman E, Henderson D, Tamir O, Franz C, Song P, Yamin CK, Keohane C, Denham CR,
Bates DW. Health care‐associated infections: a meta‐analysis of costs and financial impact on
the US health care system. JAMA Intern Med 2013; 173: 2039– 46.
[2] International Journal of Science and Research (IJSR) ISSN (Online): 2319-7064 "Is Local
Gentamycine useful with V.A.C (Vaccume Assisted Closure in Wound Healing??)" Dr. Sharad S
Sawant, Dr. Bhosale Dattatray, Volume 4 Issue 10, October 2015
https://www.ijsr.net/archive/v4i10/SUB159139.pdf
[3] International Journal of Surgery, Volume 10, Supplement 1, 2012, Pages S15-S20 "Local
application of gentamicin-containing collagen implant in the prophylaxis and treatment of
surgical site infection in orthopaedic surgery" Harald Knaepler
https://core.ac.uk/download/pdf/82695885.pdf
[4] J Wound Care. 2015 Apr;24(4 Suppl):21-8. doi: 10.12968/jowc.2015.24.Sup4b.21.
Incisional negative pressure wound therapy for high-risk wounds. Raymund E Horch 1
[5] Willy C, Agarwal A, Andersen CA, et al. Closed incision negative pressure therapy:
international multidisciplinary consensus recommendations. Int Wound J 2017;14(2):385-98
[6] Morykwas MJ, Argenta LC, Shelton-Brown EI, et al. Vacuum-assisted closure: a new
method for wound control and treatment: animal studies and basic foundation. Ann Plast
Surg 1997;38(6):553-62
[7] khlak Hussain, Kuldip Singh, Mohinder Singh, "Cost Effectiveness of Vacuum-Assisted
Closure and Its Modifications: A Review", International Scholarly Research Notices, vol. 2013,
Article ID 595789, 5 pages, 2013. https://doi.org/10.5402/2013/595789
[8] Sopata M, Jawień A, Mrozikiewicz-Rakowska B, et al. Wytyczne postępowania
miejscowego w ranach niezakażonych, zagrożonych infekcją oraz zakażonych – przegląd
dostępnych substancji przeciwdrobnoustrojowych stosowanych w leczeniu ran. Zalecenia
Polskiego Towarzystwa Leczenia Ran. Leczenie Ran. 2020;(1):1-21.
doi:10.5114/lr.2020.96820.
https://www.termedia.pl/Wytyczne-postepowania-miejscowego-w-ranach-niezakazonych-za
grozonych-infekcja-oraz-zakazonych-przeglad-dostepnych-substancji-przeciwdrobnoustrojow
ych-stosowanych-w-leczeniu-ran-Zalecenia-Polskiego-Tow,153,41134,1,0.html
[9] Chirurgia po Dyplomie 02/2020 "Wykorzystanie terapii podciśnieniowej w chirurgii" dr n.
med. Adam Bobkiewicz, prof. dr hab. n. med. Tomasz Banasiewicz
[10] O. Friberg, R. Svedjeholm, B. Söderquist, H. Granfeldt, T. Vikerfors, J. Källman, Local
gentamicin reduces sternal wound infections after cardiac surgery: a randomised controlled
trial, Ann Thorac Surg, 79 (2005), pp. 153-162
[11] Tech Coloproctol. 2010 Dec;14(4):301-10. doi: 10.1007/s10151-010-0593-0. Epub 2010
Jun 29. Local application of gentamicin collagen implants in the prophylaxis of surgical site
infections following gastrointestinal surgery: a review of clinical experience. A F J de Bruin
https://pubmed.ncbi.nlm.nih.gov/20585822/
[12] J Thorac Cardiovasc Surg. 2015 Jun;149(6):1631-40.e1-6. doi:
10.1016/j.jtcvs.2015.01.034. Epub 2015 Jan 23. Gentamicin-collagen sponge reduces the risk
of sternal wound infections after heart surgery: Meta-analysis Mariusz Kowalewski
https://pubmed.ncbi.nlm.nih.gov/25703409/
[13] European Centre for Disease Prevention and Control. Surveillance of antimicrobial
resistance in Europe – Annual report of the European Antimicrobial Resistance Surveillance
Network (EARS-Net) 2017. Stockholm: ECDC; 2018.
[14] Kramer, J. Dissemond i in., Consensus on Wound Antisepsis: Update 2018, "Skin
Pharmacology and Physiology" 2018, 31:28-58.
[15] Acton C, Barrett S, Beldon P, et al: Best practice statement: the use of topical
antiseptic/antimicrobial agents in wound management. Second edition, May 2011.
http://www.wounds-uk.com/pdf/content_9969.pdf.
[16] World Health Organization: Prevention and management of wound infection: guidance
from WHO's Department of Violence and Injury Prevention and Disability and the
Department of Essential Health Technologies. 2008.
http://www.who.int/hac/techguidance/tools/guidelines_prevention_and_management_wo
und_infection.pdf.
[17] 2018, Vol.31, No. 1 January 2018 Consensus on Wound Antisepsis: Update 2018 Kramer
A
https://www.karger.com/Article/Fulltext/481545#ref16
[18] The Journal of International Medical Research 2010; 38: 1442 – 1447 Effect of Local
Gentamicin Application on Healing and Wound Infection in Patients with Modified Radical
Mastectomy: a Prospective Randomized Study YETIM
[19] N Engl J Med.. 2010 Sep 9;363(11):1038-49. doi: 10.1056/NEJMoa1000837. Epub 2010
Aug 4. Gentamicin-collagen sponge for infection prophylaxis in colorectal surgery , Elliott
Bennett-Guerrero
https://pubmed.ncbi.nlm.nih.gov/20825316/
[20] JAMA. 2010 Aug 18;304(7):755-62. doi: 10.1001/jama.2010.1152. Effect of an
implantable gentamicin-collagen sponge on sternal wound infections following cardiac
surgery: a randomized trial Elliott Bennett-Guerrero
https://pubmed.ncbi.nlm.nih.gov/20716738/
[21] Interact Cardiovasc Thorac Surg. 2012 Apr;14(4):390-4. doi: 10.1093/icvts/ivr129. Epub
2012 Jan 16. Use of gentamicin-collagen sponges in closure of sternal wounds in
cardiothoracic surgery to reduce wound infections. Gauri Godbole
https://pubmed.ncbi.nlm.nih.gov/22253203/
[22] Int J Colorectal Dis.2016 Feb;31(2):393-402. doi: 10.1007/s00384-015-2454-9. Epub
2015 Nov 27. "Meta-analysis of local gentamicin for prophylaxis of surgical site infections in
colorectal surgery" Yan-Fei Lv 1, Jian Wang 1, Feng Dong 2, Dian-Hui Yang 3
https://pubmed.ncbi.nlm.nih.gov/26614505/
[23]
http://chpl.com.pl/data_files/2012-07-16_20120704_garamycin_gabka_chpl-urclean.pdf
[24] 2018, Vol.31, No. 1 January 2018 Consensus on Wound Antisepsis: Update 2018 Kramer
A
[25] International Wound Journal ISSN 1742-4801 Recommendations on negative pressure
wound therapy with instillation and antimicrobial solutions – when, where and how to use:
what does the evidence show? David A Back, Catharina Scheuermann-Poley & Christian Will
[26] Serena TE, Jalodi O, Serena L, Patel K, Mynti M. Evaluation of the combination of a
biofilm-disrupting agent and negative pressure wound therapy: a case series. J Wound Care.
2021 Jan 2;30(1):9-14. doi: 10.12968/jowc.2021.30.1.9. PMID: 33439086.
[27] Timmers et al. in 2009 (21) demonstrated the usefulness of NPWTi in patients with
osteomyelitis of the pelvis or lower extremities in a retrospective case–control cohort study.
In addition to systemic antibiotic therapy, patients received either NPWTi using
polyhexanide or were additionally treated with gentamicin-polymethacrylate beads. The
rate of infections was significantly reduced in the NPWTi group compared with the usual
control group [3/30 (10%) versus 55/93 (58·5%), P < 0·0001].
Timmers MS, Graafland N, Bernards AT, Nelissen RG, van Dissel JT, Jukema GN. Negative
pressure wound treatment with polyvinyl alcohol foam and polyhexanide antiseptic solution
instillation in posttraumatic osteomyelitis. Wound Repair Regen 2009;17:278–86.
[28] Zhao AH, Kwok CHR, Jacques A, Stopher L, Hockley JA, Garbowski MW, Jansen SJ.
Gentamicin-Containing Collagen Implant May Reduce Surgical Site Infections After Open
Infrainguinal Arterial Revascularization. Ann Vasc Surg. 2022 Jan;78:84-92. doi:
10.1016/j.avsg.2021.06.036. Epub 2021 Sep 17. PMID: 34543713.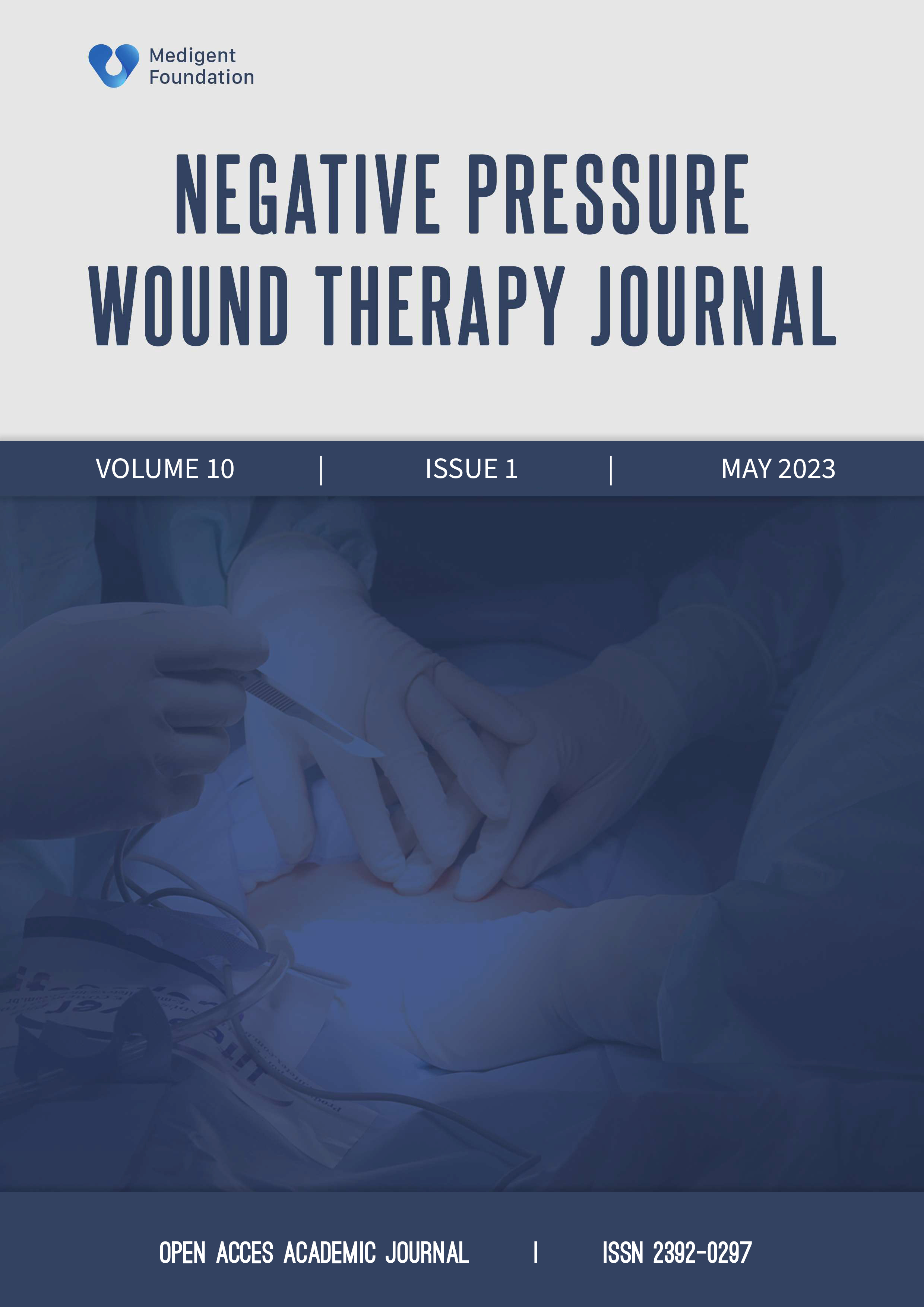 How to Cite
Bartosz Jan Grzechulski, & Banasiewicz, T. (2023). The use of a gentamicin-collagen sponge (Garamycin sponge) with NPWT for the treatment of difficult wounds in patients with Chron's disease. A case series. Negative Pressure Wound Therapy Journal, 10(1), 4-7. https://doi.org/10.18487/npwtj.v10i1.69
Copyright (c) 2023 Bartosz Jan Grzechulski, Tomasz Banasiewicz
This work is licensed under a Creative Commons Attribution 4.0 International License.
Authors who publish with this journal agree to the following terms:
Authors retain copyright and grant the journal right of first publication with the work simultaneously licensed under a Creative Commons Attribution License that allows others to share the work with an acknowledgement of the work's authorship and initial publication in this journal.
Authors are able to enter into separate, additional contractual arrangements for the non-exclusive distribution of the journal's published version of the work (e.g., post it to an institutional repository or publish it in a book), with an acknowledgement of its initial publication in this journal.
Authors are permitted and encouraged to post their work online (e.g., in institutional repositories or on their website) prior to and during the submission process, as it can lead to productive exchanges, as well as earlier and greater citation of published work (See The Effect of Open Access).
We require authors to sign a Publication Agreement prior to publication of the manuscript in NPWTJ. The link to this form may be found below.
PUBLICATION AGREEMENT FORM