Use of ciNPWT in cardiac surgery: single center observational study
Antonio Capo

Azienda Ospedaliera Santa Croce e Carle
Abstract
Surgical site infections and complications (SSI, SSC) are relatively rare but potentially devastating events; particularly in cardiac surgery because of the importance of the structures involved.
In accordance with the main international guidelines, that recommend the use of negative pressure therapy in closed surgical wounds (ciNPWT) in high-risk patients, we selected a group of 112 patients at high risk of developing surgical site complications, presenting in the clinic from January 2018 to December 2019.
We applied 165 single-use negative pressure dressings in our cohort and kept them for seven days ($\pm$ 1). All the wounds were closed by primary intention without edema or hematoma. Three cases of postoperative bleeding required us to pause the negative pressure therapy. After discharge, five patients at particularly high risk developed sternal wound dehiscence.
In conclusion, the use of ciNPWT, applied following a dedicated algorithm, gave good results in the prevention of SSI or SSC. Some limitations in the results are determined by the specific requirements of cardiac surgery.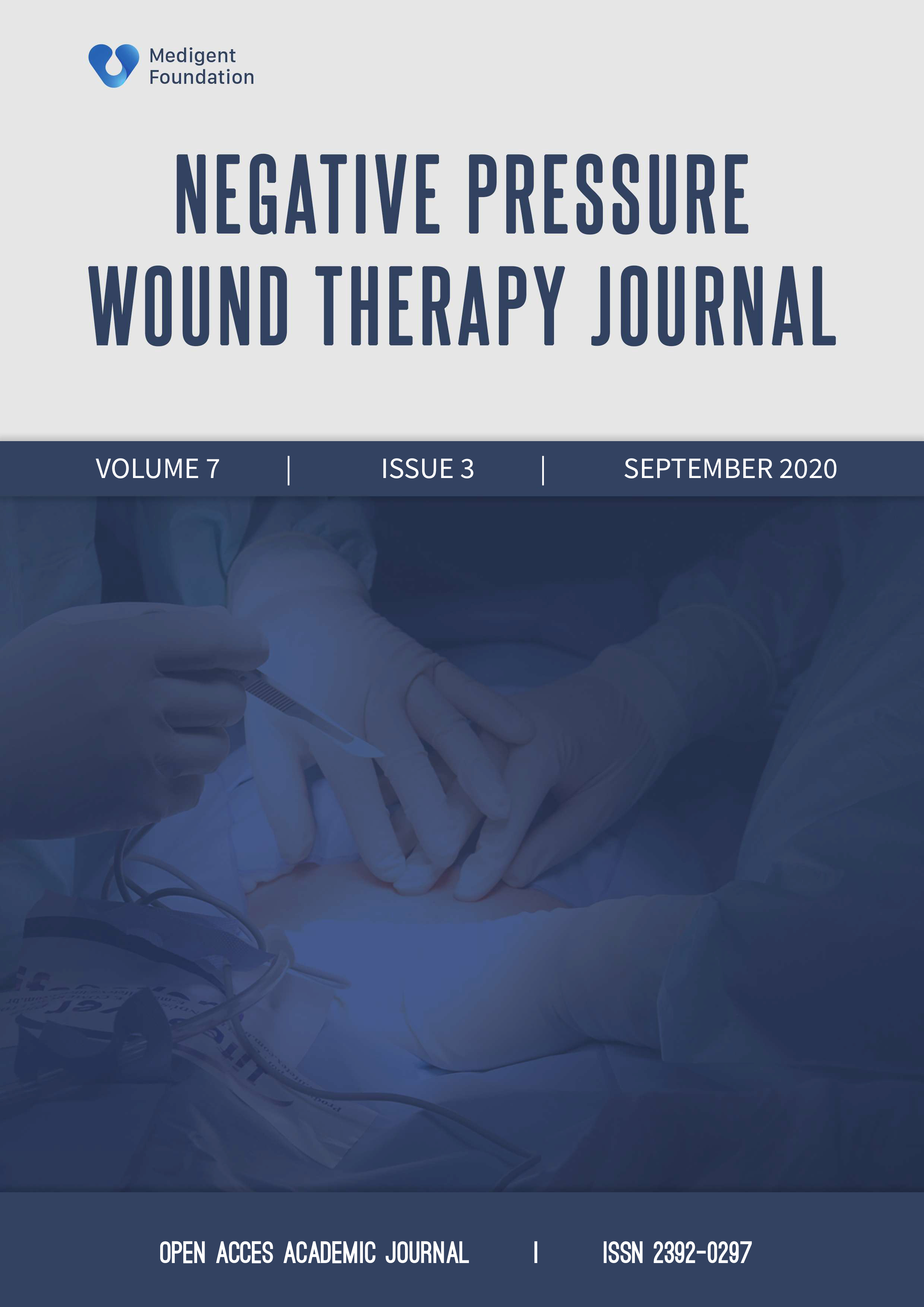 How to Cite
Capo, A. (2020). Use of ciNPWT in cardiac surgery: single center observational study. Negative Pressure Wound Therapy Journal, 7(3), 4-7. https://doi.org/10.18487/npwtj.v7i3.62
Copyright (c) 2020 Antonio Capo
This work is licensed under a Creative Commons Attribution 4.0 International License.
Authors who publish with this journal agree to the following terms:
Authors retain copyright and grant the journal right of first publication with the work simultaneously licensed under a Creative Commons Attribution License that allows others to share the work with an acknowledgement of the work's authorship and initial publication in this journal.
Authors are able to enter into separate, additional contractual arrangements for the non-exclusive distribution of the journal's published version of the work (e.g., post it to an institutional repository or publish it in a book), with an acknowledgement of its initial publication in this journal.
Authors are permitted and encouraged to post their work online (e.g., in institutional repositories or on their website) prior to and during the submission process, as it can lead to productive exchanges, as well as earlier and greater citation of published work (See The Effect of Open Access).
We require authors to sign a Publication Agreement prior to publication of the manuscript in NPWTJ. The link to this form may be found below.
PUBLICATION AGREEMENT FORM