Severe deep neck infections successfully treated with negative pressure wound therapy with instillation - a case report
Krzysztof Szmyt

Poznan University of Medical Sciences

Adam Bobkiewicz

Department of General, Endocrinological Surgery and Gastrointestinal Oncology, Poznan University of Medical Sciences, Poznan, Poland

Łukasz Krokowicz

Department of General, Endocrinological Surgery and Gastrointestinal Oncology, Poznan University of Medical Sciences, Poznan, Poland

Tomasz Banasiewicz

Department of General, Endocrinological Surgery and Gastrointestinal Oncology, Poznan University of Medical Sciences, Poznan, Poland
Abstract
Background: Deep neck infection (DNI) is a life-threatening complication associated with significant mortality and morbidity rates. The most common causes of DNI are the tonsilitis, dentitis, salivary glands inflammation, malignancies, and foreign bodies. As a result of neck infection, patients are at high risk of potential secondary complications which include: descending mediastinitis, pleural empyema, septicemia, jugular vein thrombosis, pericarditis. We presented a case of successful management of DNI with the utility of negative pressure wound therapy with instillation (iNPWT).
Method: A 37-year-old male with deep neck infection due to dentitis was qualified for iNPWT. Due to previous incisions and drainage of the neck abscesses, some undermined wounds drained towards each other's were revealed with an excessive amount of purulent content. Standard NPWT dressing was placed and polyurethane foam was covered with contact layer dressing. Additionally, an inflow drain was placed within one of the wounds in regard to instill an antimicrobial solution. The wound was instilled four times daily.
Results: The patient underwent a total of eight iNWPT sessions. Locally, a reduction in purulent content was achieved with a decrease of wounds' dimensions and improvement of wound bed granulation. Moreover, improvement of the patient's general condition and decrease of inflammatory markers was achieved.
Conclusions: iNPWT may play an important role in the management of combined, complicated wounds due to DNI. The instilled antimicrobial solution facilitates dissolving and removing of the purulent content that impairs the wound healing.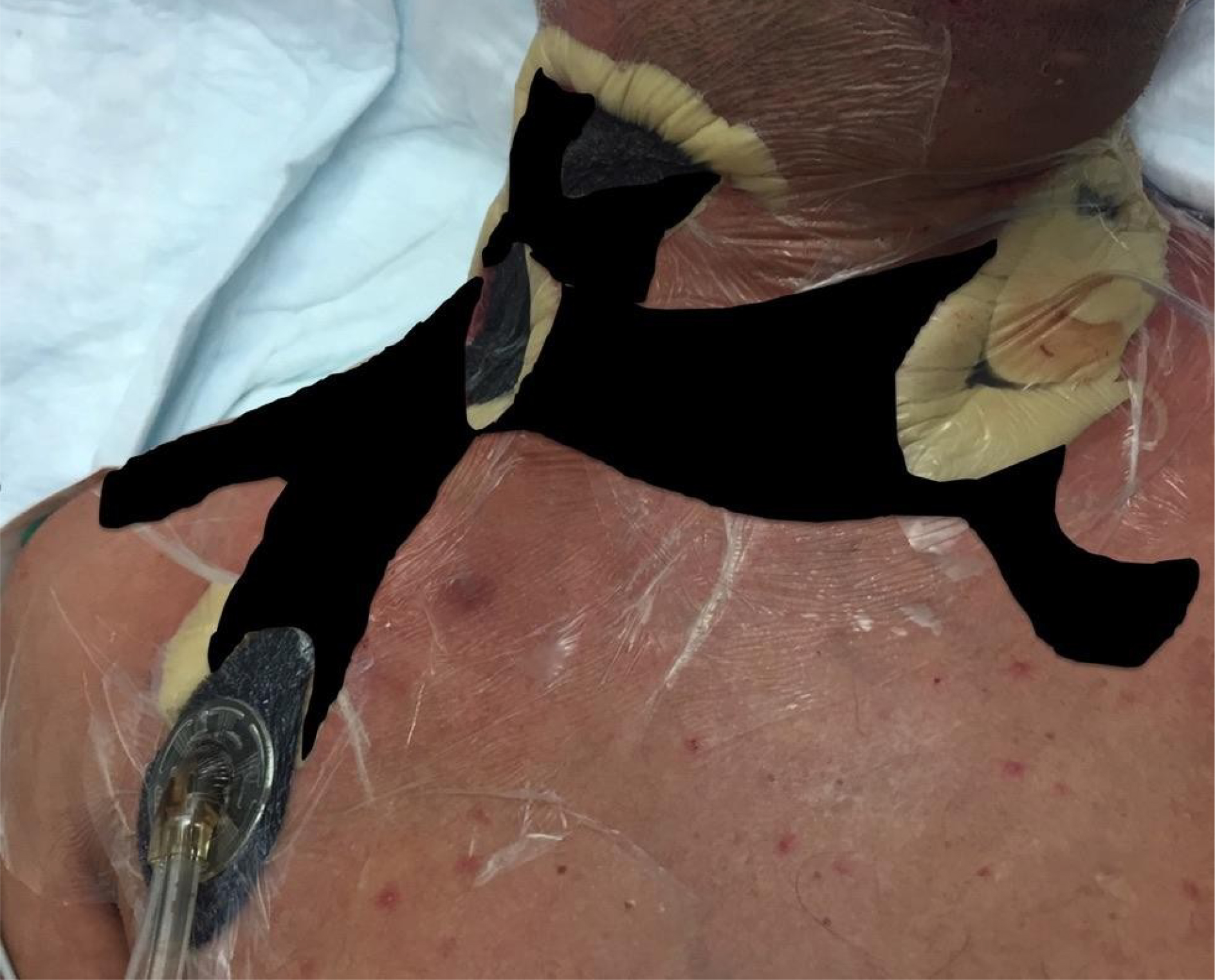 How to Cite
Szmyt, K., Bobkiewicz, A., Krokowicz, Łukasz, & Banasiewicz, T. (2020). Severe deep neck infections successfully treated with negative pressure wound therapy with instillation - a case report. Negative Pressure Wound Therapy Journal, 7(2), 10-14. https://doi.org/10.18487/npwtj.v7i2.59
Copyright (c) 2020 Krzysztof Szmyt
This work is licensed under a Creative Commons Attribution 4.0 International License.
Authors who publish with this journal agree to the following terms:
Authors retain copyright and grant the journal right of first publication with the work simultaneously licensed under a Creative Commons Attribution License that allows others to share the work with an acknowledgement of the work's authorship and initial publication in this journal.
Authors are able to enter into separate, additional contractual arrangements for the non-exclusive distribution of the journal's published version of the work (e.g., post it to an institutional repository or publish it in a book), with an acknowledgement of its initial publication in this journal.
Authors are permitted and encouraged to post their work online (e.g., in institutional repositories or on their website) prior to and during the submission process, as it can lead to productive exchanges, as well as earlier and greater citation of published work (See The Effect of Open Access).
We require authors to sign a Publication Agreement prior to publication of the manuscript in NPWTJ. The link to this form may be found below.
PUBLICATION AGREEMENT FORM