Prevention and therapy of acute and chronic wounds using NPWT devices during the COVID-19 pandemic, recommendation from The NPWT Working Group
Tomasz Banasiewicz

Poznan University of Medical Sciences

http://orcid.org/0000-0003-2809-6940

Rolf Becker

Departmentleiter Revisionsendoprothetik, Eduardus Krankenhaus Köln, Germany

Adam Bobkiewicz

Department of General, Endocrynological Surgery and Gastrointestinal Oncology, Poznan University of Medical Scences, Poznan, Poland

Marco Fraccalvieri

Plastic Surgery Unit, Aso Citta' della Saliute Della Scienza Di Torino, Italy

Wojciech Francuzik

Department of Dermatology, Venereology and Allergology, Charité – Universitätsmedizin Berlin, corporate member of Freie Universität Berlin, Humboldt-Universität zu Berlin, and Berlin Institute of Health

Martin Hutan

Surgical department, LK Hainburg, Hainburg a.d. Donau, Austria

Mike Laukoetter

Department of General and Visceral Surgery, Mathias-Spital Rheine, Frankenburgstrasse 31, 48431 Rheine, Germany.

Marcin Malka

PODOS Wound Care Clinic, Warsaw, Poland

Bartosz Mańkowski

Div. of Trauma, Burns and Plastic Surgery, Poznan University of Medical Sciences

Zsolt Szentkereszty

Faculty of Medicine, Institute. of Surgery, Debrecen, University of Debrecen, Hungary

Csaba Toth

Medical and Health Science Center, Institute of Surgery, Dept. of Vascular Surgery, University of Debrecen, Hungary

Lenka Veverkova

Masaryk University Brno Ist Surgical Dpt. St Anne's University Hospital Brno (FNUSA-ICRC) , Czech Republic

Sudheer Karlakki

Consultant Orthopaedic and Arthoplasty SurgeRJAH Orthopaedic Hospital NHS FT, Oswestry, United Kingdom, Honorary Senior Lecturer (Keele University)

John Murphy

Nightingale Breast Centre, Manchester University Hospitals Foundation NHS Trusts, Manchester, United Kingdom.

Zielinski Maciej

Dept of Vascular Surgery Poznan University of Medical Science Poland
Abstract
Recent SARS-CoV-2 pandemic leading to a rapidly increasing number of hospitalizations enforced reevaluation of wound management strategies.
The optimal treatment strategy for patients with chronic wounds and those recovering from emergency and urgent oncological surgery should aim to minimize the number of hospital admissions, as well as the number of surgical procedures and decrease the length of stay to disburden the hospital staff and to minimize viral infection risk.
One of the potential solutions that could help to achieve these goals may be the extensive and early use of NPWT devices in the prevention of wound healing complications.
Single-use NPWT devices are helpful in outpatient wound treatment and SSI prevention (ciNPWT) allowing to minimize in-person visits to the health care center while still providing the best possible wound-care. Stationary NPWT should be used in deep SSI and perioperative wound healing disorders as soon as possible.
Patient's education and telemedical support with visual wound healing monitoring and video conversations have the potential to minimize the number of unnecessary in-person visits in patients with wounds and therefore substantially increase the level of care.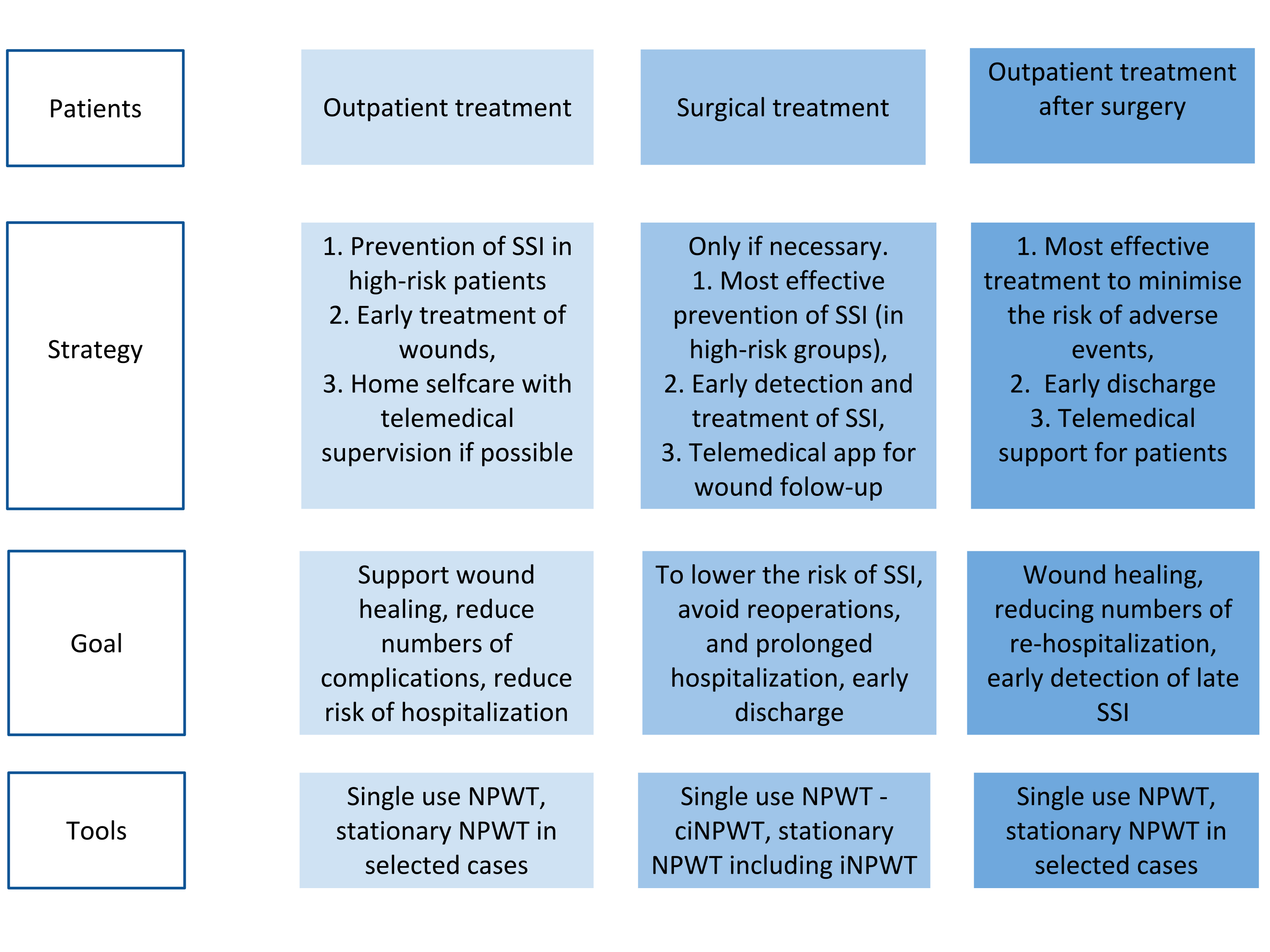 How to Cite
Banasiewicz, T., Becker, R., Bobkiewicz, A., Fraccalvieri, M., Francuzik, W., Hutan, M., Laukoetter, M., Malka, M., Mańkowski, B., Szentkereszty, Z., Toth, C., Veverkova, L., Karlakki, S., Murphy, J., & Maciej, Z. (2020). Prevention and therapy of acute and chronic wounds using NPWT devices during the COVID-19 pandemic, recommendation from The NPWT Working Group. Negative Pressure Wound Therapy Journal, 7(2), 4-9. https://doi.org/10.18487/npwtj.v7i2.58
Section
Original Articles
Copyright (c) 2020 Tomasz Banasiewicz, Rolf Becker, Adam Bobkiewicz, Marco Fraccalvieri, Wojciech Francuzik, Martin Hutan, Mike Laukoetter, Marcin Malka, Bartosz Mańkowski, Zsolt Szentkereszty, Csaba Toth, Lenka Veverkov, Sudheer Karlakki, John Murphy, Zielinski Maciej
This work is licensed under a Creative Commons Attribution 4.0 International License.
Authors who publish with this journal agree to the following terms:
Authors retain copyright and grant the journal right of first publication with the work simultaneously licensed under a Creative Commons Attribution License that allows others to share the work with an acknowledgement of the work's authorship and initial publication in this journal.
Authors are able to enter into separate, additional contractual arrangements for the non-exclusive distribution of the journal's published version of the work (e.g., post it to an institutional repository or publish it in a book), with an acknowledgement of its initial publication in this journal.
Authors are permitted and encouraged to post their work online (e.g., in institutional repositories or on their website) prior to and during the submission process, as it can lead to productive exchanges, as well as earlier and greater citation of published work (See The Effect of Open Access).
We require authors to sign a Publication Agreement prior to publication of the manuscript in NPWTJ. The link to this form may be found below.
PUBLICATION AGREEMENT FORM