Novel, self-made and cost-ective technique for closed-incision negative pressure wound therapy
Dominik Andrzej Walczak

Department of Oncological and Reconstructive Surgery, Maria Sklodowska-Curie Memorial Cancer Centre and Institute of Oncology, Gliwice, Poland

http://orcid.org/0000-0001-9009-5039

Maciej Grajek

Department of Oncological and Reconstructive Surgery, Maria Sklodowska-Curie Institute-Oncology Center, Gliwice, Poland

Marcin Zeman

Department of Oncological and Reconstructive Surgery, Maria Sklodowska-Curie Institute-Oncology Center, Gliwice, Poland

Tomasz Pałka

Department of Oncological and Reconstructive Surgery, Maria Sklodowska-Curie Institute-Oncology Center, Gliwice, Poland

Mathias Kalkum

Department of General and Visceral Surgery, Tirschenreuth County Hospital, Tirschenreuth, Germany

Mirosław Dobrut

Department of Oncological and Reconstructive Surgery, Maria Sklodowska-Curie Institute-Oncology Center, Gliwice, Poland

Piotr Drozdowski

Department of Oncological and Reconstructive Surgery, Maria Sklodowska-Curie Institute-Oncology Center, Gliwice, Poland

Rafał Ulczok

Department of Oncological and Reconstructive Surgery, Maria Sklodowska-Curie Institute-Oncology Center, Gliwice, Poland

Karolina Donocik

Department of Oncological and Reconstructive Surgery, Maria Sklodowska-Curie Institute-Oncology Center, Gliwice, Poland

Adam Maciejewski

Department of Oncological and Reconstructive Surgery, Maria Sklodowska-Curie Institute-Oncology Center, Gliwice, Poland

Łukasz Krakowczyk

Department of Oncological and Reconstructive Surgery, Maria Sklodowska-Curie Institute-Oncology Center, Gliwice, Poland
Abstract
Background: It has been suggested that applying the negative pressure wound therapy (NPWT) to a closed
surgical incision may hasten the healing of the incision and decrease the incidence of wound healing complications. The goal of this study is to present the new idea of a simple, self-made, low-cost wound vacuum dressing for closed-incision NPWT that may become an alternative to currently manufactured medical
industry products.
Method: We designed a simple dressing for closed-incision NPWT from gauze pads, polyurethane adhesive film, stoma paste, and a drain tube. Negative pressure was created using a standard 50 ml syringe connected to the drain. First, the dressing was applied to the wound model and on the healthy volunteer. Finally, the dressing was applied to 10 patients after low anterior rectal resection. The vacuum dressing was left in place for 3 days, then changed and placed once more for the next 3 days.
Results: We did not observe any adverse effects associated
with the dressing. All postoperative wounds healed properly. 18 out of 20 dressings were still air-tight 72h post-placement.
Conclusions: This simple, self-made dressing for NPWT is safe and effective and may decrease the wound infection rate. However future studies are needed to confirm that hypothesis.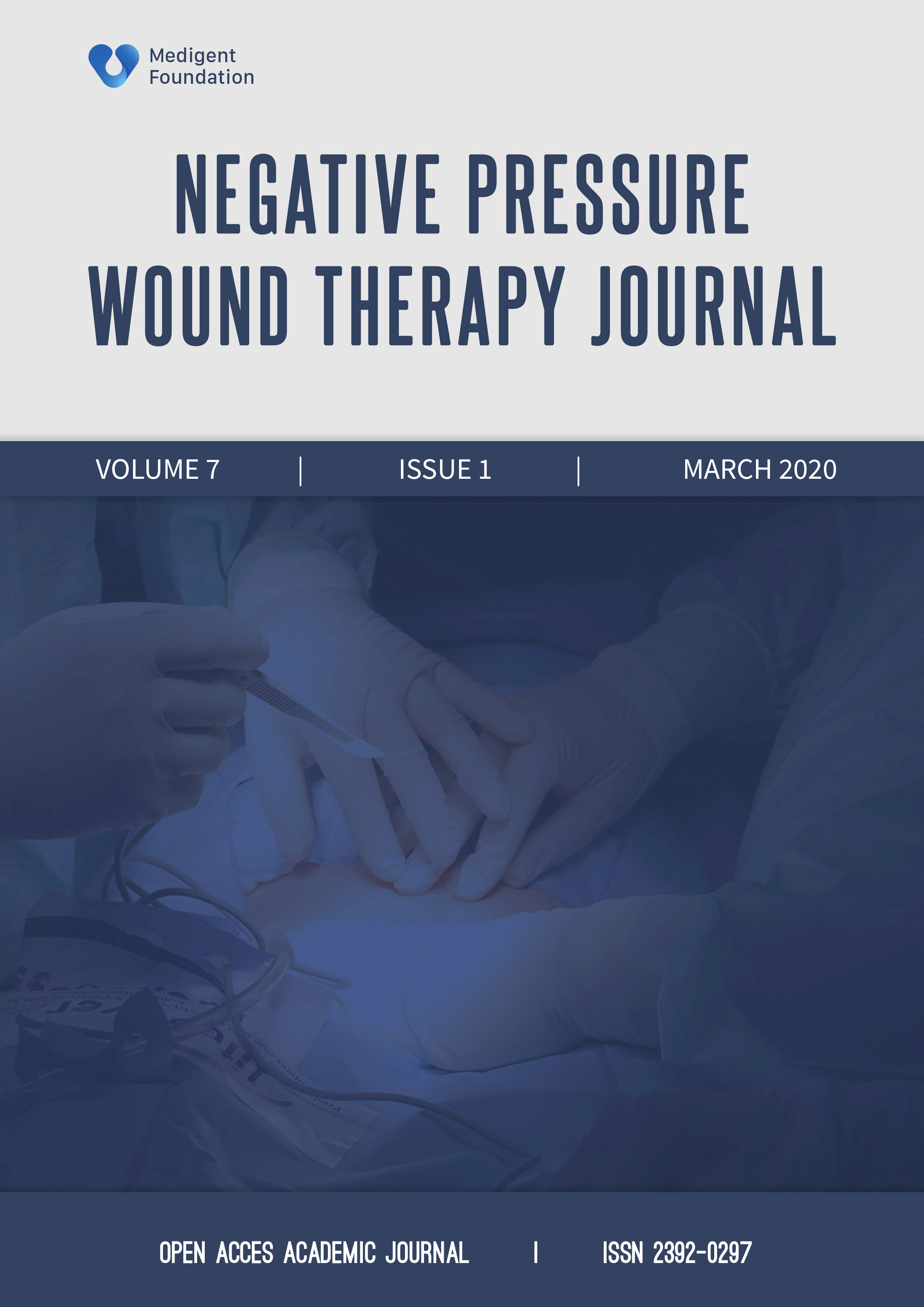 How to Cite
Walczak, D. A., Grajek, M., Zeman, M., Pałka, T., Kalkum, M., Dobrut, M., Drozdowski, P., Ulczok, R., Donocik, K., Maciejewski, A., & Krakowczyk, Łukasz. (2020). Novel, self-made and cost-ective technique for closed-incision negative pressure wound therapy. Negative Pressure Wound Therapy Journal, 7(1), 8-10. https://doi.org/10.18487/npwtj.v7i1.56
Section
Tools and procedures
Copyright (c) 2020 Dominik Andrzej Walczak, Maciej Grajek, Marcin Zeman, Tomasz Pałka, Mathias Kalkum, Mirosław Dobrut, Piotr Drozdowski, Rafał Ulczok, Karolina Donocik, Adam Maciejewski, Łukasz Krakowczyk
This work is licensed under a Creative Commons Attribution 4.0 International License.
Authors who publish with this journal agree to the following terms:
Authors retain copyright and grant the journal right of first publication with the work simultaneously licensed under a Creative Commons Attribution License that allows others to share the work with an acknowledgement of the work's authorship and initial publication in this journal.
Authors are able to enter into separate, additional contractual arrangements for the non-exclusive distribution of the journal's published version of the work (e.g., post it to an institutional repository or publish it in a book), with an acknowledgement of its initial publication in this journal.
Authors are permitted and encouraged to post their work online (e.g., in institutional repositories or on their website) prior to and during the submission process, as it can lead to productive exchanges, as well as earlier and greater citation of published work (See The Effect of Open Access).
We require authors to sign a Publication Agreement prior to publication of the manuscript in NPWTJ. The link to this form may be found below.
PUBLICATION AGREEMENT FORM