Negative Pressure Wound Therapy (NPWT) in Breast Surgery
Abdalla SAAD ABDALLA AL-ZAWI

Basildon University Hospital

Vanessa SALIH

Department of Surgery, Kings College Hospital , London, United Kingdom

Amira Asaad

Department of Surgery ,Basildon & Thurrock University Hospital, Essex, United Kingdom

Rebecca Harsten

Lewisham and Greenwich NHS Trust, London- United Kingdom

Momen Abdou Alkhir

Morzoque Faculty of Me4dical Technology, Sebha University – Libya

Hamad BenRafe

Faculty of Medicine , Omar Al-Mukhtar University, Al-Baida-Libya

Tomasz Banasiewicz

Department of General, Endocrine Surgery and Gastrointestinal Oncology, Poznań University of Medical Sciences, Poznań, Poland
Abstract
Background: The use of Negative Pressure Wound Dressing has been found to promote the wound healing process, therefore, reducing the risk of surgical site complications. The use of this technique amongst breast cancer patients, who have often encountered a distressing journey, may prove beneficial in making the post-operative process less eventful. Many of these patients have a limited time window to start adjuvant treatment. The use of a negative pressure device is recommended in both prophylactic and therapeutic scenarios. NPWT may also be used in patients who have undergone cosmetic breast surgery. We have evaluated the use of NPWT in breast surgery with an updated and systematic review of the available literature.

Methods: The authors systematically searched the PubMed, Science Direct, and Wiley Online databases using the phrases "Negative Pressure Wound Therapy in Breast surgery" and "Vacuum-Assisted Closure in Breast Wound" and all publications, including relevant data were considered eligible for inclusion in the review.

Results: We have found reports of 7 studies, 3 retrospective, 2 prospective, one randomized trial, and one case series. The complication rate in the NPWT group versus conventional dressing group has been reported in 5 papers. A statistically significant effect in favor of NPWT was documented in three trials.

Conclusion: The current evidence supports the notion that NPWT systems are beneficial in enhancing the healing of complicated breast wounds. However, larger studies exploring the effectiveness of this technique would be of interest to breast surgeons.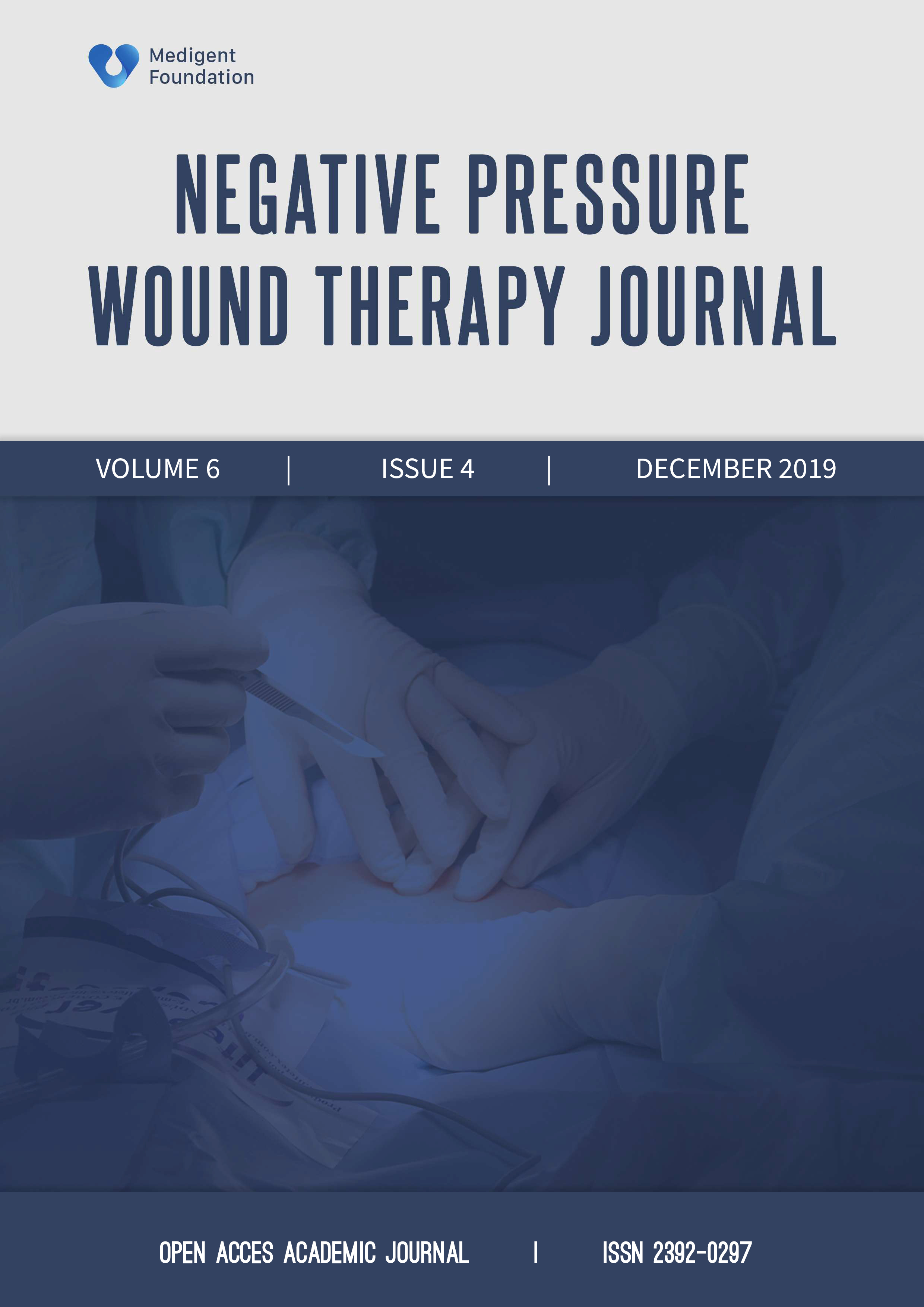 How to Cite
SAAD ABDALLA AL-ZAWI, A., SALIH, V., Asaad, A., Harsten, R., Alkhir, M. A., BenRafe, H., & Banasiewicz, T. (2019). Negative Pressure Wound Therapy (NPWT) in Breast Surgery. Negative Pressure Wound Therapy Journal, 6(4), 10-14. https://doi.org/10.18487/npwtj.v6i4.53
Copyright (c) 2019 Abdalla SAAD ABDALLA AL-ZAWI, Vanessa SALIH, Amira Asaad, Rebecca Harsten, Momen Abdou Alkhir, Hamad BenRafe, Tomasz Banasiewicz
This work is licensed under a Creative Commons Attribution 4.0 International License.
Authors who publish with this journal agree to the following terms:
Authors retain copyright and grant the journal right of first publication with the work simultaneously licensed under a Creative Commons Attribution License that allows others to share the work with an acknowledgement of the work's authorship and initial publication in this journal.
Authors are able to enter into separate, additional contractual arrangements for the non-exclusive distribution of the journal's published version of the work (e.g., post it to an institutional repository or publish it in a book), with an acknowledgement of its initial publication in this journal.
Authors are permitted and encouraged to post their work online (e.g., in institutional repositories or on their website) prior to and during the submission process, as it can lead to productive exchanges, as well as earlier and greater citation of published work (See The Effect of Open Access).
We require authors to sign a Publication Agreement prior to publication of the manuscript in NPWTJ. The link to this form may be found below.
PUBLICATION AGREEMENT FORM