Negative pressure wound therapy as a "bridge" for the final reconstruction of tissue defect following a degloving injury of the forearm – a case report
Izabela Ratnicka

Department of Plastic Surgery, Medical University of Gdańsk

Karolina Kondej

Department of Plastic Surgery, Medical University of Gdańsk

Justyna Jończyk

Department of Plastic Surgery, Medical University of Gdańsk

Magdalena Graczyk

Department of Plastic Surgery, Medical University of Gdańsk

Barbara Chrzanowska

Department of Plastic Surgery, Medical University of Gdańsk

Jerzy Jankau

Department of Plastic Surgery, Medical University of Gdańsk
Abstract
Degloving injuries are traumatic avulsions usually resulting in large areas of soft tissue defects. The injury involves separation of skin and subcutaneous tissue from fascia and muscles. The complex nature of these injuries requires a patient-oriented multidisciplinary surgical approach and a wide variety of therapeutic options. Negative pressure wound therapy can be of benefit at every stage of the long-lasting treatment.
In this paper, we present a case of a 29-year-old male after an occupational accident with a conveyor belt leading to a degloving injury of the right forearm treated in the Department of Plastic Surgery of the Medical University in Gdańsk.

The use of NPWT, hyperbaric oxygen therapy, dermal regeneration templates, skin grafting, and early rehabilitation resulted in an excellent functional and aesthetic outcome.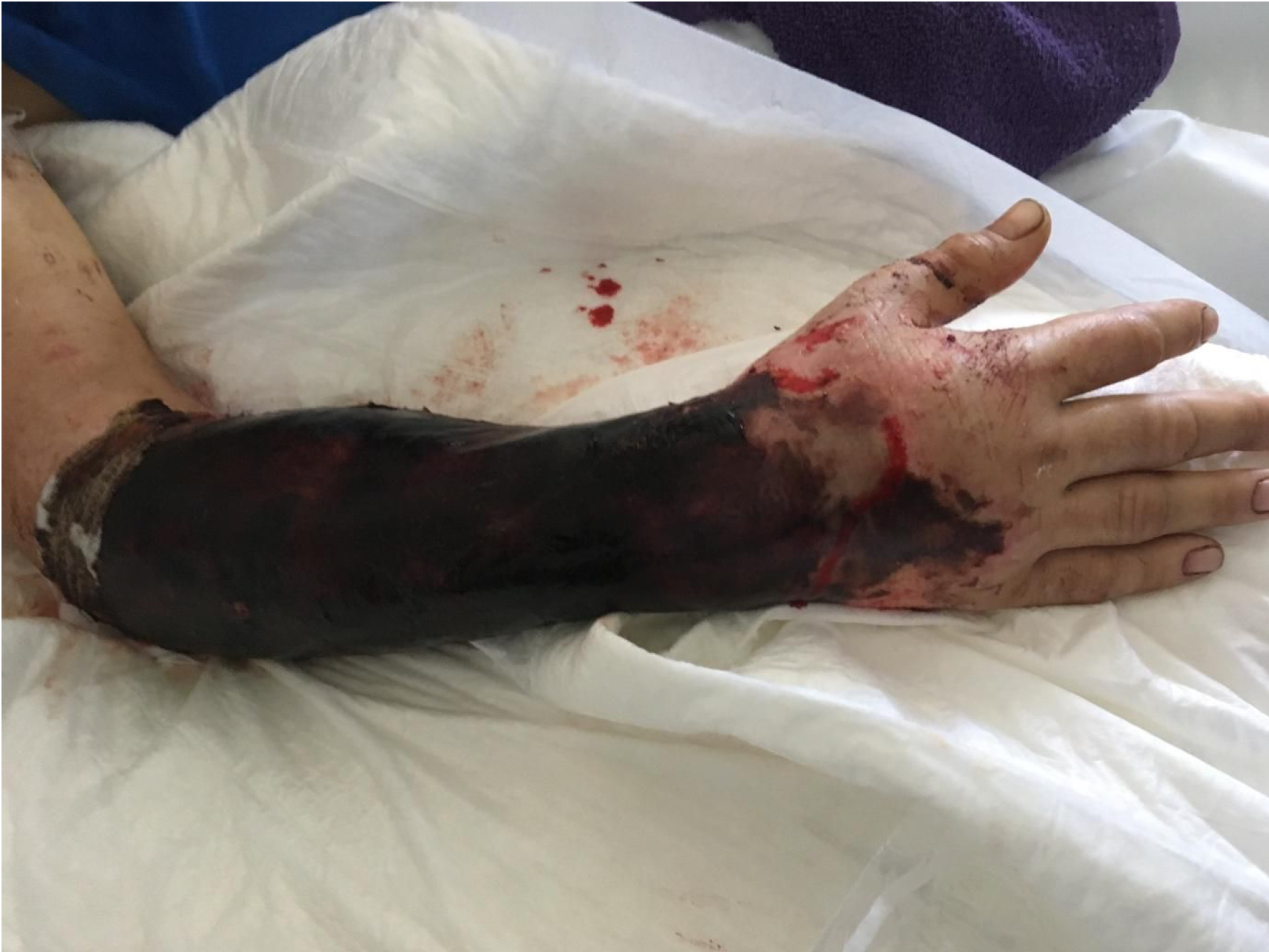 How to Cite
Ratnicka, I., Kondej, K., Jończyk, J., Graczyk, M., Chrzanowska, B., & Jankau, J. (2019). Negative pressure wound therapy as a "bridge" for the final reconstruction of tissue defect following a degloving injury of the forearm – a case report. Negative Pressure Wound Therapy Journal, 6(3), 4-7. https://doi.org/10.18487/npwtj.v6i3.52
Copyright (c) 2019 Izabela Ratnicka, Karolina Kondej, Justyna Jończyk, Magdalena Graczyk, Barbara Chrzanowska, Jerzy Jankau
This work is licensed under a Creative Commons Attribution 4.0 International License.
Authors who publish with this journal agree to the following terms:
Authors retain copyright and grant the journal right of first publication with the work simultaneously licensed under a Creative Commons Attribution License that allows others to share the work with an acknowledgement of the work's authorship and initial publication in this journal.
Authors are able to enter into separate, additional contractual arrangements for the non-exclusive distribution of the journal's published version of the work (e.g., post it to an institutional repository or publish it in a book), with an acknowledgement of its initial publication in this journal.
Authors are permitted and encouraged to post their work online (e.g., in institutional repositories or on their website) prior to and during the submission process, as it can lead to productive exchanges, as well as earlier and greater citation of published work (See The Effect of Open Access).
We require authors to sign a Publication Agreement prior to publication of the manuscript in NPWTJ. The link to this form may be found below.
PUBLICATION AGREEMENT FORM