Single-use NPWT device with telemedical wound monitoring in the treatment of acne inversa in a pregnant patient – case report
Kinga Zastawna

The General and Endocrine Surgery and Gastroenterological Oncology Department, K. Marcinkowski University of Medical Sciences, Poznan, Poland

Alicja Żalejko-Strychalska

Department of General and Endocrine Surgery and Gastroenterological Oncology Department, Poznan University of Medical Sciences, Poznan, Poland

Tomasz Banasiewicz

Department of General and Endocrine Surgery and Gastroenterological Oncology Department, Poznan University of Medical Sciences, Poznan, Poland
Abstract
Acne inversa (AI) is a chronic inflammatory skin
disease significantly impacting the patient's quality of life.
Management guidelines for acne inversa during pregnancy do
not exist. We decided to use a single-use negative pressure
wound therapy (PICO, Smith & Nephew) while managing a
pregnant patient with AI. Negative pressure wound therapy
(NPWT) seemed to improve the patient's condition, managing
the exudation, reducing edema, and improving local regeneration,
as well as epithelialization. The method was also absolutely
safe for the fetus and feasible to conduct in the outpatient
department - what was of utmost importance for the patient.
The telemedical monitoring of wound healing using mobile
technologies seems to be gaining importance for patients and
medical practitioners. In the described case, we used the iWound
(Polmedi, Poland) application in an outpatient setting.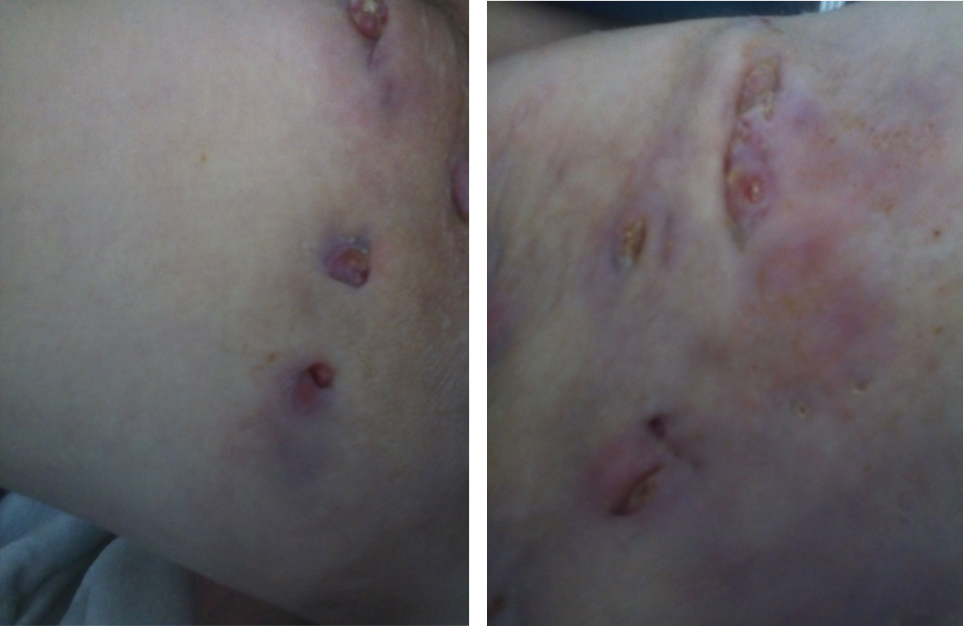 How to Cite
Zastawna, K., Żalejko-Strychalska, A., & Banasiewicz, T. (2019). Single-use NPWT device with telemedical wound monitoring in the treatment of acne inversa in a pregnant patient – case report. Negative Pressure Wound Therapy Journal, 6(2), 4-6. https://doi.org/10.18487/npwtj.v6i2.51
Copyright (c) 2019 Kinga Zastawna, Alicja Żalejko-Strychalska, Tomasz Banasiewicz
This work is licensed under a Creative Commons Attribution 4.0 International License.
Authors who publish with this journal agree to the following terms:
Authors retain copyright and grant the journal right of first publication with the work simultaneously licensed under a Creative Commons Attribution License that allows others to share the work with an acknowledgement of the work's authorship and initial publication in this journal.
Authors are able to enter into separate, additional contractual arrangements for the non-exclusive distribution of the journal's published version of the work (e.g., post it to an institutional repository or publish it in a book), with an acknowledgement of its initial publication in this journal.
Authors are permitted and encouraged to post their work online (e.g., in institutional repositories or on their website) prior to and during the submission process, as it can lead to productive exchanges, as well as earlier and greater citation of published work (See The Effect of Open Access).
We require authors to sign a Publication Agreement prior to publication of the manuscript in NPWTJ. The link to this form may be found below.
PUBLICATION AGREEMENT FORM