Negative Pressure Wound Therapy for Necrotizing Fasciitis and Compartment Syndrome of the Upper Extremity — a case report
Attila Enyedi

University of Debrecen, Faculty of Medicine, Inst. of Surgery 4032 Debrecen, Móricz Zs. krt 22, Hungary

Gábor Mudriczki

University of Debrecen, Faculty of Medicine, Inst. of Surgery 4032 Debrecen, Móricz Zs. krt 22, Hungary

Tamás Bazsó

University of Debrecen, Faculty of Medicine, Dept. of Orthopaedic Surgery 4032 Debrecen, Nagyerdei krt. 98, Hungary

Ferenc Győry

University of Debrecen, Faculty of Medicine, Inst. of Surgery 4032 Debrecen, Móricz Zs. krt 22, Hungary

Zsolt Susán

University of Debrecen, Faculty of Medicine, Inst. of Surgery 4032 Debrecen, Móricz Zs. krt 22, Hungary

László Damjanovich

University of Debrecen, Faculty of Medicine, Inst. of Surgery 4032 Debrecen, Móricz Zs. krt 22, Hungary

Zsolt Szentkereszty

University of Debrecen, Faculty of Medicine, Inst. of Surgery 4032 Debrecen, Móricz Zs. krt 22, Hungary
Abstract
Background: Necrotizing fasciitis (NF) is a lifethreatening
infection of the subcutaneous tissues that spreads
along the underlying fascia. Despite the early and aggressive
surgical fasciotomy and necrectomy, its mortality rate is still
high. In NF the negative pressure wound therapy (NPWT)
shows good effects on wound healing and on the primary closure
of the concomitant extended tissue defects.
Case report: A 32-year-old male patient was admitted with
a four-day history of fever (39.1C), pain, swelling, erythema
of the right elbow and the upper arm. On admission, extensive
erythema and swelling were seen on the right forearm, arm,
and the pectoral region with superficial skin bullae. Based on
the clinical symptoms and laboratory tests immediate surgery
was indicated. Extended fasciotomy and necrosectomy were
performed on the full extremity and pectoral region. Negative
pressure wound therapy was started immediately afterward
with -120 mmHg concomitantly with antibiotic therapy.
Results: After five cycles of NPWT the patient recovered
without needing any plastic surgical intervention. The functional
and aesthetic results were excellent.
Conclusion: In the case of extended NF of the upper extremity
the aggressive surgery and NPWT are relatively safe and
effective.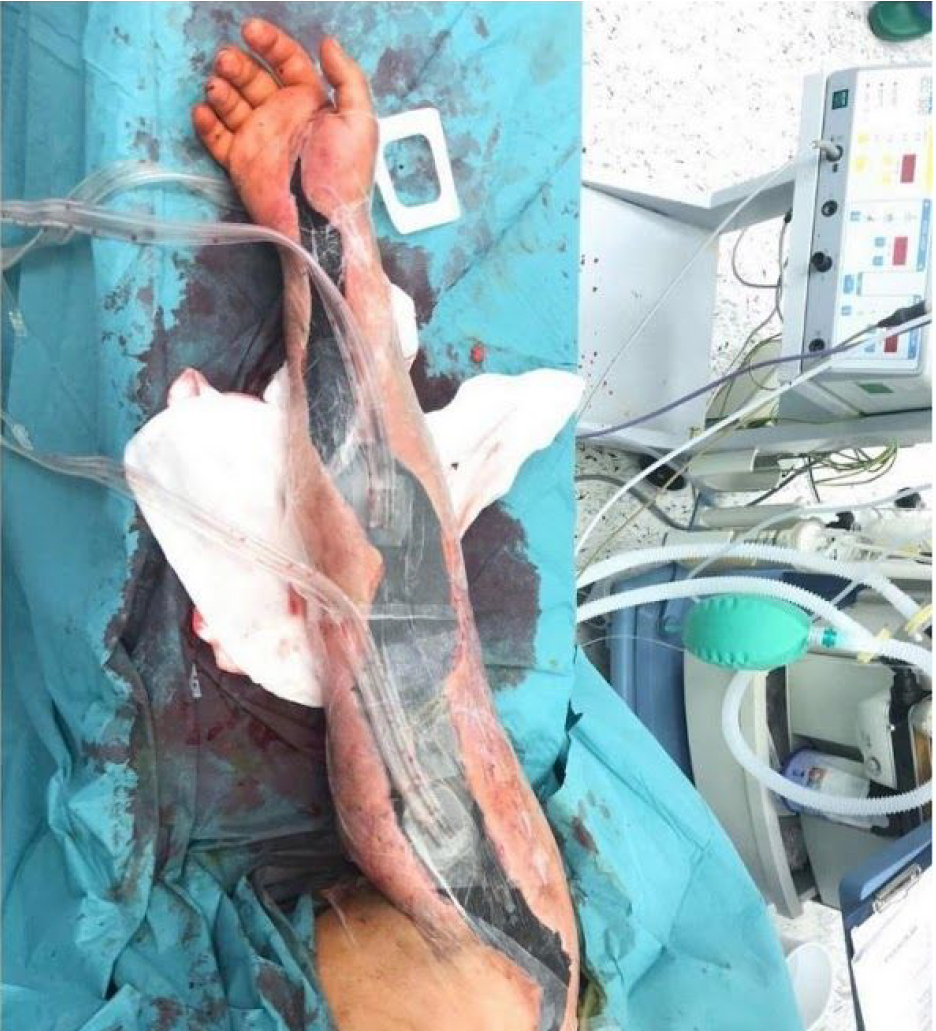 How to Cite
Enyedi, A., Mudriczki, G., Bazsó, T., Győry, F., Susán, Z., Damjanovich, L., & Szentkereszty, Z. (2019). Negative Pressure Wound Therapy for Necrotizing Fasciitis and Compartment Syndrome of the Upper Extremity — a case report. Negative Pressure Wound Therapy Journal, 6(1), 5-8. https://doi.org/10.18487/npwtj.v6i1.47
Copyright (c) 2019 Attila Enyedi, Gábor Mudriczki, Tamás Bazsó, Ferenc Győry, Zsolt Susán, László Damjanovich, Zsolt Szentkereszty
This work is licensed under a Creative Commons Attribution 4.0 International License.
Authors who publish with this journal agree to the following terms:
Authors retain copyright and grant the journal right of first publication with the work simultaneously licensed under a Creative Commons Attribution License that allows others to share the work with an acknowledgement of the work's authorship and initial publication in this journal.
Authors are able to enter into separate, additional contractual arrangements for the non-exclusive distribution of the journal's published version of the work (e.g., post it to an institutional repository or publish it in a book), with an acknowledgement of its initial publication in this journal.
Authors are permitted and encouraged to post their work online (e.g., in institutional repositories or on their website) prior to and during the submission process, as it can lead to productive exchanges, as well as earlier and greater citation of published work (See The Effect of Open Access).
We require authors to sign a Publication Agreement prior to publication of the manuscript in NPWTJ. The link to this form may be found below.
PUBLICATION AGREEMENT FORM