New perspectives in the treatment of hard-to-heal wounds
Jarosław Cwaliński

Department of General, Endocrinological Surgery and Gastroenterological Oncology Poznan University of Medical Sciences, Poland

Jacek Paszkowski

Department of General, Endocrinological Surgery and Gastroenterological Oncology Poznan University of Medical Sciences, Poland

Tomasz Banasiewicz

Department of General, Endocrinological Surgery and Gastroenterological Oncology Poznan University of Medical Sciences, Poland
Abstract
Hard-to-heal wounds continue to be a challenge in the everyday surgical practice. Their treatment is time-consuming, expensive and in many cases requires interdisciplinary assessment. Therapy option include properly selected surgical procedures and dressings combined with systemic antibiotherapy. Application of  vacuum assisted closure (VAC) facilitates the evacuation of pathological discharge, reduces tissue oedema and eliminates bacterial biofilm. Complementary administration of antibiotics to control chronic infection relies today in most cases on vancomycin, ciprofloxacin or piperacillin with tazobactam, with good clinical effect.
An alternative to antibiotics against MRSA, administered at hospitals might be dalbavancin, a new generation lipoglycopeptide, which belongs to the same class as vancomycin. Introduction of dalbavancin and VAC might be an alternative to traditional methods of therapy.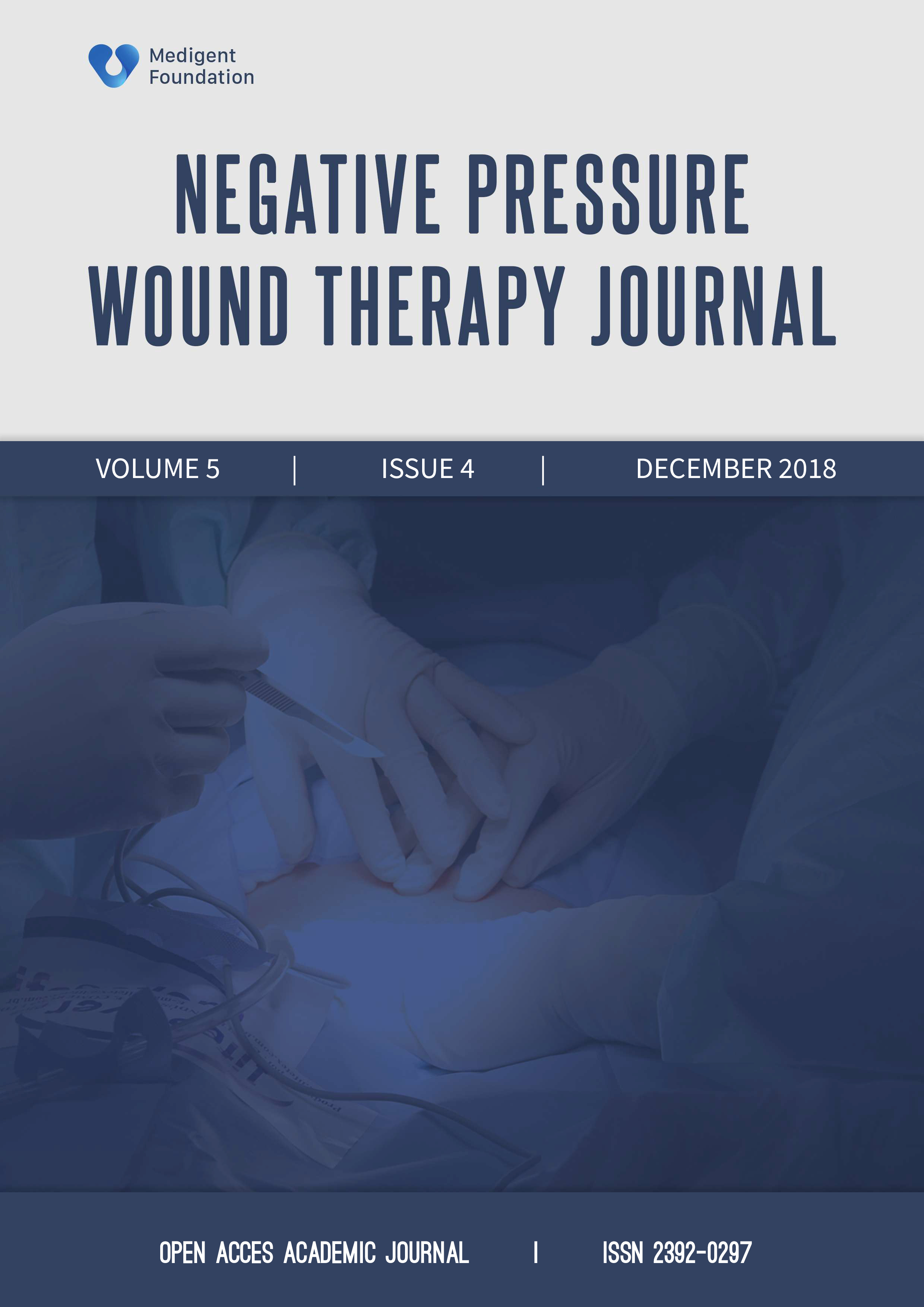 How to Cite
Cwaliński, J., Paszkowski, J., & Banasiewicz, T. (2018). New perspectives in the treatment of hard-to-heal wounds. Negative Pressure Wound Therapy Journal, 5(4), 10-12. https://doi.org/10.18487/npwtj.v5i4.45
Copyright (c) 2018 Jarosław Cwaliński, Jacek Paszkowski, Tomasz Banasiewicz
This work is licensed under a Creative Commons Attribution 4.0 International License.
Authors who publish with this journal agree to the following terms:
Authors retain copyright and grant the journal right of first publication with the work simultaneously licensed under a Creative Commons Attribution License that allows others to share the work with an acknowledgement of the work's authorship and initial publication in this journal.
Authors are able to enter into separate, additional contractual arrangements for the non-exclusive distribution of the journal's published version of the work (e.g., post it to an institutional repository or publish it in a book), with an acknowledgement of its initial publication in this journal.
Authors are permitted and encouraged to post their work online (e.g., in institutional repositories or on their website) prior to and during the submission process, as it can lead to productive exchanges, as well as earlier and greater citation of published work (See The Effect of Open Access).
We require authors to sign a Publication Agreement prior to publication of the manuscript in NPWTJ. The link to this form may be found below.
PUBLICATION AGREEMENT FORM