Management of an open abdomen complicated by a high output entero-atmosferic fistula after a gastric by-pass
Lorena Hierro-Olabarria Salgado

Basurto Hospital
Abstract
There is a wide spectrum of indications for negative pressure wound therapy (NPWT) including enterocutaneous fistulas, open abdomen management, abdominal wound dehiscence, open fractures, amputation wounds, sternal wound infections, vascular bypass site infection and many others.
The article shows a case report of a patient with an entero-atmospheric fistula managed with NPWT. Control of intestinal contents from an entero-atmospheric fistula with the NPWT minimizes the damage to the healing bed of granulation tissue until the definitive closure of the fistula can be undertaken six to twelve months
later.
After a laparoscopic gastric bypass and 5 emergency interventions because of leaks at the jejunojenunal anastomosis and complications of the abdominal wall, an entero-atmospheric fistula appeared. This fistula was managed with the NPWT during two months. In the described case, the application of negative pressure
dressing system allowed the management of the entero-atmospheric fistula until it became a stoma.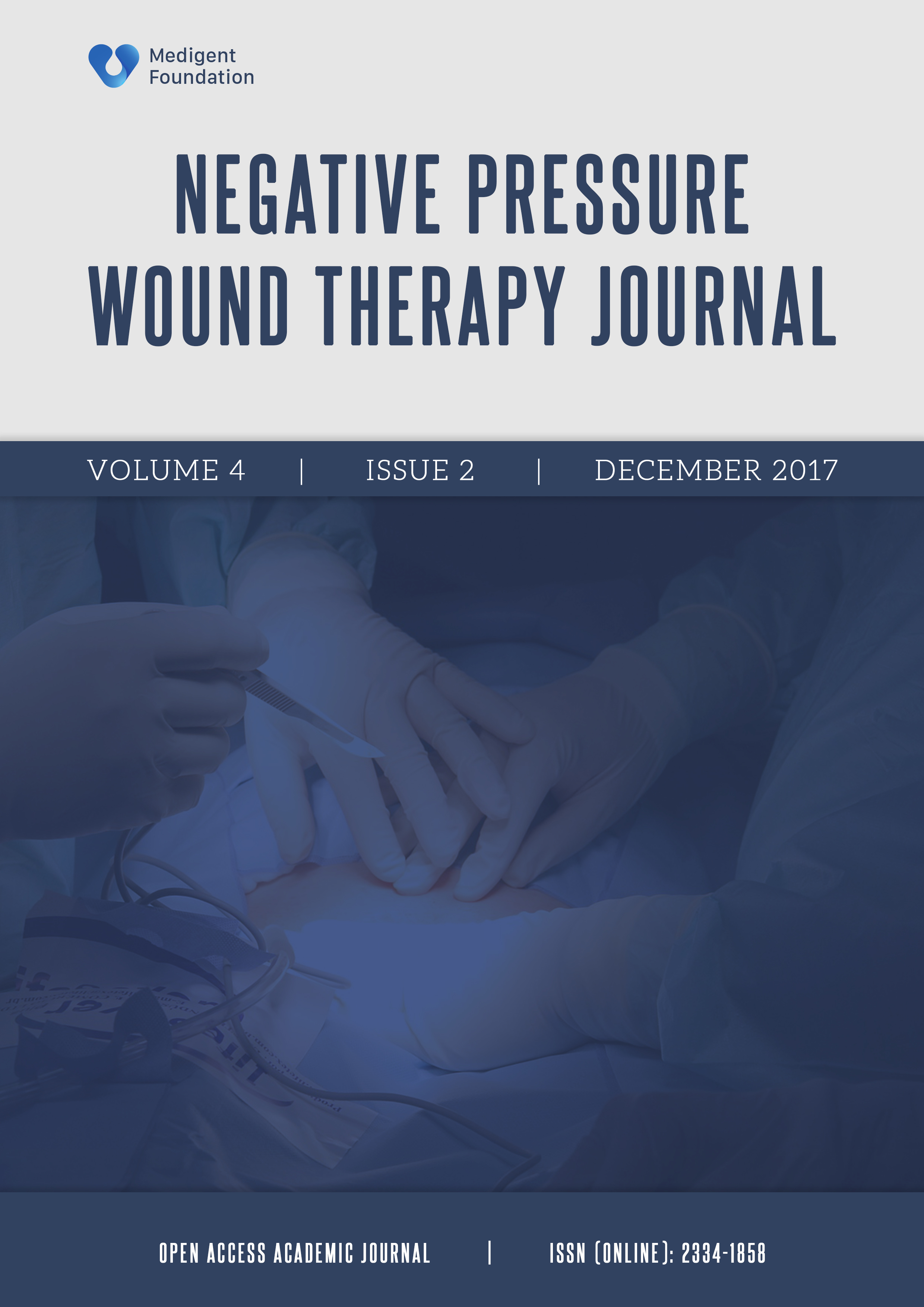 How to Cite
Salgado, L. H.-O. (2017). Management of an open abdomen complicated by a high output entero-atmosferic fistula after a gastric by-pass. Negative Pressure Wound Therapy Journal, 4(2), 11-16. https://doi.org/10.18487/npwtj.v4i2.33
Copyright (c) 2017 Lorena Hierro-Olabarria Salgado
This work is licensed under a Creative Commons Attribution 4.0 International License.
Authors who publish with this journal agree to the following terms:
Authors retain copyright and grant the journal right of first publication with the work simultaneously licensed under a Creative Commons Attribution License that allows others to share the work with an acknowledgement of the work's authorship and initial publication in this journal.
Authors are able to enter into separate, additional contractual arrangements for the non-exclusive distribution of the journal's published version of the work (e.g., post it to an institutional repository or publish it in a book), with an acknowledgement of its initial publication in this journal.
Authors are permitted and encouraged to post their work online (e.g., in institutional repositories or on their website) prior to and during the submission process, as it can lead to productive exchanges, as well as earlier and greater citation of published work (See The Effect of Open Access).
We require authors to sign a Publication Agreement prior to publication of the manuscript in NPWTJ. The link to this form may be found below.
PUBLICATION AGREEMENT FORM