A simple and low- cost technique for Closed Incision Negative-Pressure Therapy
Dominik Andrzej Walczak

1) Department of General Surgery, John Paul II Memorial Hospital, Belchatow, Poland 2) Department of Experimental Surgery, Medical University of Lodz, Lodz, Poland

http://orcid.org/0000-0001-9009-5039

Michał Wojtyniak

Department of General Surgery, John Paul II Memorial Hospital, Belchatow, Poland

Piotr Wojciech Trzeciak

Department of General Surgery, John Paul II Memorial Hospital, Belchatow, Poland

Dariusz Pawełczak

Department of Experimental Surgery, Medical University of Lodz, Lodz, Poland

Zbigniew Pasieka

Department of Experimental Surgery, Medical University of Lodz, Lodz, Poland
Keywords:
Negative pressure wound therapy, Closed Incision Negative-Pressure Therapy, surgical site infection
Abstract
Surgical site infection (SSI) makes patient care more expensive by prolonging antibiotic usage and hospital stay. Negative pressure wound therapy (NPWT) has been recently reported as a preventive strategy to avoid SSI. We present a simple and low-cost vacuum dressing that may improve surgical wound healing and prevent high-risk wounds from complications.
References
Stannard JP, Gabriel A, Lehner B. Use of negative pressure wound therapy over clean, closed surgical incisions. Int Wound J. 2012;9;suppl 1;:32–9. doi: 10.1111/j.1742-481X.2012.01017.x.
Michael J. Ingargiola, BS, Lily N. Daniali, MD; Edward S. Lee, MD Does the Application of Incisional Negative Pressure Therapy to High-risk Wounds Prevent Surgical Site Complications? A Systematic Review; ePlasty. 2013;13
Muensterer OZ, Keijzer R. A simple vacuum dressing reduces the wound infection rate of single-incision pediatric endosurgical appendectomy. JSLS. 2011 Apr-Jun;15(2):147-50. doi: 10.4293/108680811X13071180406592.
Birke-Sorensen H, Malmsjo M, Rome P, et al; Evidence-based recommendations for negative pressure wound therapy: treatment variables (pressure levels, wound filler and contact layer)--steps towards an international consensus. J Plast Reconstr Aesthet Surg. 2011 Sep;64 Suppl:S1-16. doi: 10.1016/j.bjps.2011.06.001.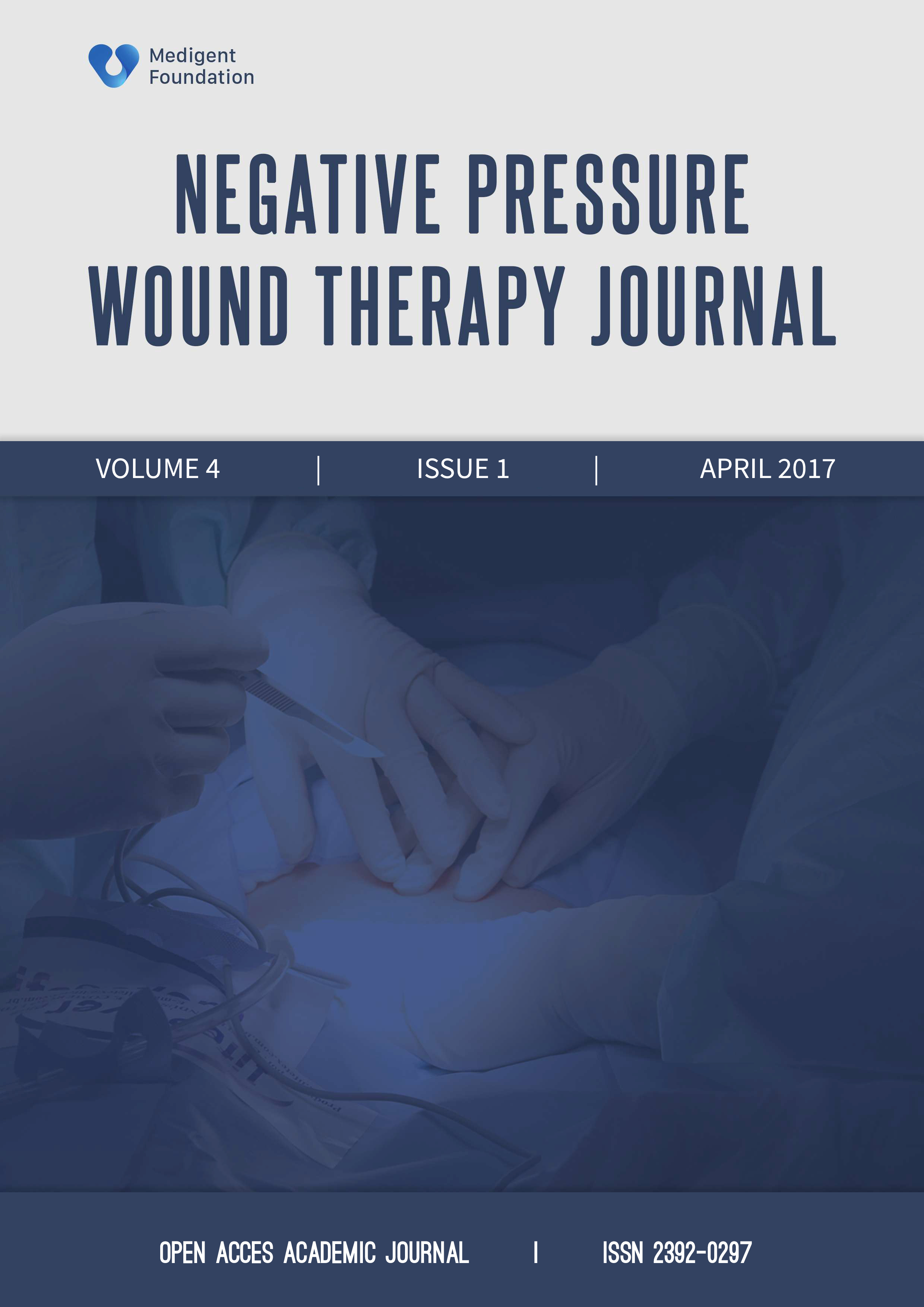 How to Cite
Walczak, D. A., Wojtyniak, M., Trzeciak, P. W., Pawełczak, D., & Pasieka, Z. (2017). A simple and low- cost technique for Closed Incision Negative-Pressure Therapy. Negative Pressure Wound Therapy Journal, 4(1), 12-13. https://doi.org/10.18487/npwtj.v4i1.25
Section
Tools and procedures
Copyright (c) 2017 Dominik Andrzej Walczak, Michał Wojtyniak, Piotr Wojciech Trzeciak, Dariusz Pawełczak, Zbigniew Pasieka
This work is licensed under a Creative Commons Attribution 4.0 International License.
Authors who publish with this journal agree to the following terms:
Authors retain copyright and grant the journal right of first publication with the work simultaneously licensed under a Creative Commons Attribution License that allows others to share the work with an acknowledgement of the work's authorship and initial publication in this journal.
Authors are able to enter into separate, additional contractual arrangements for the non-exclusive distribution of the journal's published version of the work (e.g., post it to an institutional repository or publish it in a book), with an acknowledgement of its initial publication in this journal.
Authors are permitted and encouraged to post their work online (e.g., in institutional repositories or on their website) prior to and during the submission process, as it can lead to productive exchanges, as well as earlier and greater citation of published work (See The Effect of Open Access).
We require authors to sign a Publication Agreement prior to publication of the manuscript in NPWTJ. The link to this form may be found below.
PUBLICATION AGREEMENT FORM