Negative pressure wound therapy of an anal cancer to facilitate further treatment – case report.
Magdalena Kicińska

Szpital Kliniczny im. H. Święcickiego UM w Poznaniu

Dorota Błażejewska

Szpital Kliniczny im. H. Święcickiego UM w Poznaniu

Tomasz Banasiewicz

General and endocrine surgery and gastroenterological oncology Department, Szpital Kliniczny im. Heliodora Święcickiego Uniwersytetu Medycznego w Poznaniu
Abstract
A common treatment of bad healing wounds is vacuum assisted therapy (negative pressure wound therapy). The main clinical goal are: reduced time of wound healing, decreasing frequency of septic complications, and better functional and cosmetic effect. One of the main contraidications include a malignant process in the patient, however, it is reported that in some cases it has achieved possitive results.
68 years-old man was admitted to the hospital due to resection of giant anal cancer. Because of severe problems with passing stool, size of the lesions, sphincter infiltration and full dysfunction, according to the patient's acceptation abdominoperineal rectal resection with end colostomy was performed. An open, non-healed wound was a contraindication for radiotherapy – the most advisable type of treatment in advanced anal cancer. Despite of potential malignancy in the wound, because the non-healed wound delaying the radiotherapy the negative pressure wound therapy was introduced to improve healing, close the wound and enable radiotherapy.
Potential benefits and risks of npwt treatment should always be considered. In some selected cases of oncologic patients after the surgery npwt can be considered, especially when our treatment is used in palliative management or even when the proliferation of neoplastic tissues does not affect the duration of life (paliative treatment, morbidity, old age etc.)
References
Glynne-Jones R., Northover J. M. A. , Cervantes A.. Anal cancer: ESMO Clinical Practice Guidelines for diagnosis, treatment and follow-up. Annals of Oncology 21 (Supplement 5): v87–v92, 2010 doi:10.1093/annonc/mdq171
Frykberg R. G., Banks J., Challenges in the Treatment of Chronic Wounds, Adv Wound Care (New Rochelle). 2015 Sep 1; 4(9): 560–582. doi: 10.1089/wound.2015.0635
Medical Advisory Secretariat. Negative pressure wound therapy: an evidence based
analysis. Ontario Health Technology Assessment Series 2006;6(14).
Riot S, de Bonnecaze G, Garrido I, Ferron G, Grolleau JL, Chaput B, Is the use of negative pressure wound therapy for a malignant wound legitimate in a palliative context? "The concept of NPWT ad vitam": A case series., Palliat Med. 2015 May;29(5):470-3. doi: 10.1177/0269216314560009. Epub 2014 Dec 18.
Heller L, Ballo M.T., Cormier J.N., Oates S.D., Butler C.E., Staged reconstruction for resection wounds in sarcoma patients treated with brachytherapy., Ann Plast Surg. 2008 Jan;60(1):58-63. doi: 10.1097/01.sap.0000258956.66990.9a.
Siegel H. J., Long J. L., Watson K. M., Fiveash J. B., Vacuum-Assisted Closure for Radiation-Associated Wound Complications, Journal of Surgical Oncology 2007;96:575–582
Ford-Dunn S, Use of vacuum assisted closure therapy in the palliation of a malignant wound, Palliat Med. 2006 Jun;20(4):477-8.
Mermerkaya U, Bekmez S, Alkan E, Ayvaz M, Tokgozoglu M., Evaluation of vacuum-assisted closure in patients with wound complications following tumour surgery. Int Wound J. 2014 Jun 26. doi: 10.1111/iwj.12318.
Awad T, Butcher M., Handling the sequelae of breast cancer treatment: use of NPWT to enhance patient independence, J Wound Care. 2013 Mar;22(3):162, 164-6.
Oh B.H., Lee S.H., Nam K.A., Lee H.B., Chung K.Y., Comparison of negative pressure wound therapy and secondary intention healing after excision of acral lentiginous melanoma on the foot. Br J Dermatol. 2013 Feb;168(2):333-8. doi: 10.1111/bjd.12099.
Bi H., Fang S., Jiang D., Xing X., Zhu J., Wang X., Dai H., Zhong X., Li J., Ultrasound-guided scraping of fibrous capsule plus bilayered negative pressure wound therapy for treatment of refractory postmastectomy seroma, J Plast Reconstr Aesthet Surg. 2015 Mar;68(3):403-9. doi: 10.1016/j.bjps.2014.11.007. Epub 2014 Nov 20.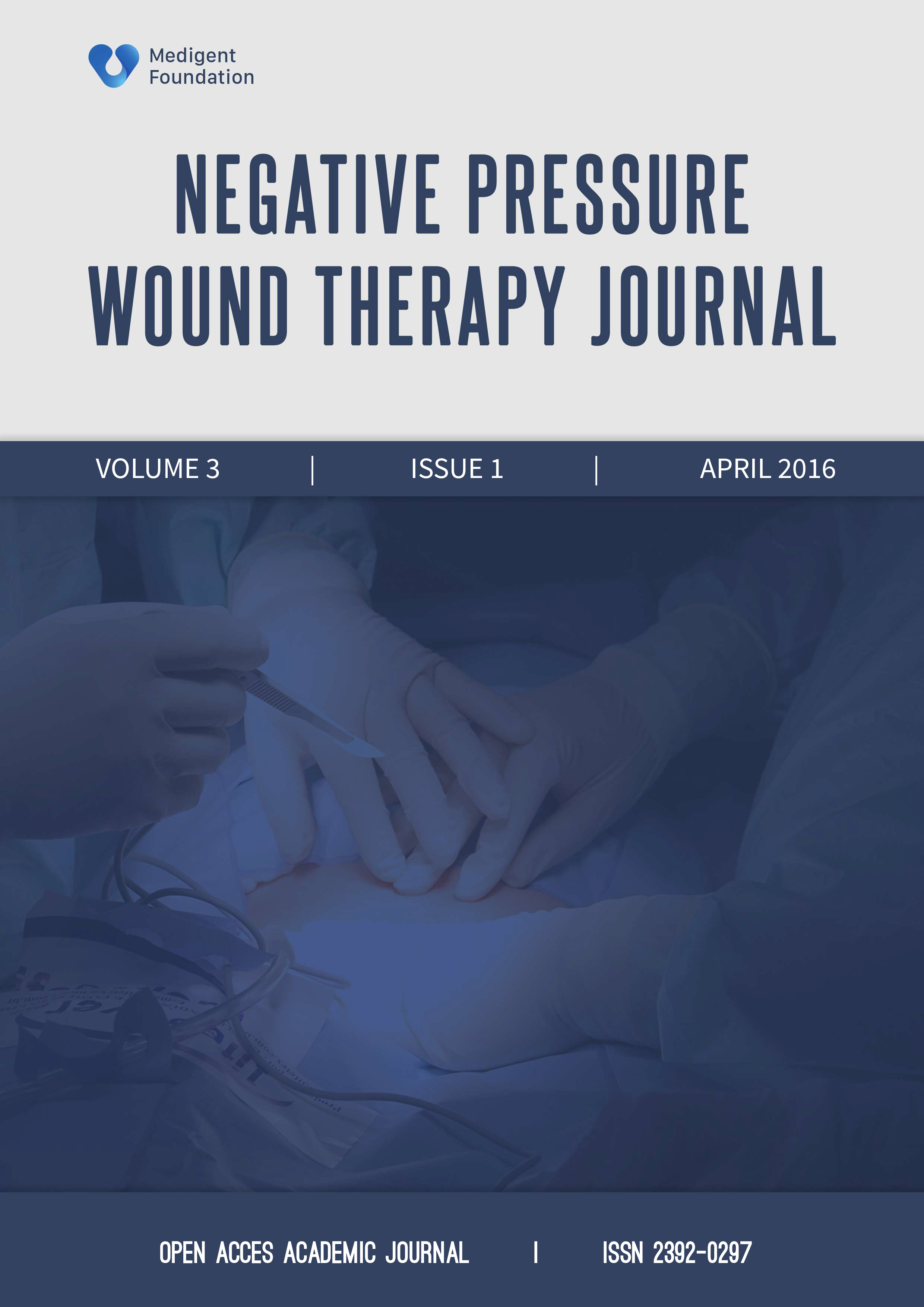 How to Cite
Kicińska, M., Błażejewska, D., & Banasiewicz, T. (2016). Negative pressure wound therapy of an anal cancer to facilitate further treatment – case report. Negative Pressure Wound Therapy Journal, 3(1). https://doi.org/10.18487/npwtj.v3i1.18
Copyright (c) 2016 Magdalena Kicińska, Dorota Błażejewska, Tomasz Banasiewicz
This work is licensed under a Creative Commons Attribution 4.0 International License.
Authors who publish with this journal agree to the following terms:
Authors retain copyright and grant the journal right of first publication with the work simultaneously licensed under a Creative Commons Attribution License that allows others to share the work with an acknowledgement of the work's authorship and initial publication in this journal.
Authors are able to enter into separate, additional contractual arrangements for the non-exclusive distribution of the journal's published version of the work (e.g., post it to an institutional repository or publish it in a book), with an acknowledgement of its initial publication in this journal.
Authors are permitted and encouraged to post their work online (e.g., in institutional repositories or on their website) prior to and during the submission process, as it can lead to productive exchanges, as well as earlier and greater citation of published work (See The Effect of Open Access).
We require authors to sign a Publication Agreement prior to publication of the manuscript in NPWTJ. The link to this form may be found below.
PUBLICATION AGREEMENT FORM