A Case of Crush Injury of The Right Foot in a 26-year-old Man Treated with Platelet Rich Plasma and Negative Pressure
Paweł Zalita

Department of Orthopaedic and Traumatic Surgery of the District Hospital, Poznan.
Abstract
Treatment of a crash injury is a largely complicated and time-consuming process. Multidirectional damages often result in skin necrosis, edema, blood circulation disorders and bone fractures. We present a case of a 26-year-old man with right foot crush injury. After trauma he underwent a complex therapy which embraced: anti-oedematous treatment, negative pressure wound therapy, reposition of the bones under  X-ray control with the stabilization by means of Kirschner wires, immobilization and transdermal application of the platelet-rich plasma in the fracture fissure – as a nonunion treatment.
References
Liebergall M1, Schroeder J, Mosheiff R, Gazit Z, Yoram Z, Rasooly L, Daskal A, Khoury A, Weil Y, Beyth S. Stem cell-based therapy for prevention of delayed fracture union: a randomized and prospective preliminary study. Mol Ther. 2013 Aug;21(8):1631-8. doi: 10.1038/mt.2013.109. Epub 2013 Jun 4.
Kanthan SR1, Kavitha G, Addi S, Choon DS, Kamarul T. Platelet-rich plasma (PRP) enhances bone healing in non-united critical-sized defects: a preliminary study involving rabbit models. Injury. 2011 Aug;42(8):782-9. doi: 10.1016/j.injury.2011.01.015. Epub 2011 Feb 16.
Seijas R1, Santana-Suarez RY, Garcia-Balletbo M, Cuscó X, Ares O, Cugat R. Delayed union of the clavicle treated with plasma rich in growth factors. Acta Orthop Belg. 2010 Oct;76(5):689-93.
Mariconda M, Cozzolino F, Cozzolino A, D'Agostino E, Bove A, Milano C. J Orthop Trauma. 2008 May-Jun;22(5):342-5. doi: 10.1097/BOT.0b013e318172cea5.
Diefenbeck M1, Mennenga U, Gückel P, Tiemann AH, Mückley T, Hofmann GO. [Vacuum-assisted closure therapy for the treatment of skin and soft-tissue infections. Are wound specimens of use in planning secondary wound closure?]. Z Orthop Unfall. 2011 Jun;149(3):324-9. doi: 10.1055/s-0030-1250694. Epub 2011 Feb 8.
Huang L, Zhang F, Ye PH, He XF, Zhu YZ, Ruan YP. [Application of vacuum sealing drainage in open ankle fracture and dislocation] Zhongguo Gu Shang. 2012 Aug;25(8):651-3.
T. Bielecki T.S. Gazdzik T. Szczepanski Benefit of Percutaneous Injection of Autologous Platelet-Leukocyte-Rich Gel in Patients with Delayed Union and Nonunion. Eur Surg Res. 2008;40(3):289-96. doi: 10.1159/000114967. Epub 2008 Feb 15.
Simpson AHR, Mills L, Noble B: The role of growth factors and related agents in accelerating fracture healing. J Bone Joint Surg [Br] 2006; 88: 701–705.
Bielecki, Tomasz Mariusz, and T. Gazdzik. "Percutaneous Injection of autogenous growth factors in patient with nonunion of the humerus. A case report." J Orthopaedics 3.3 (2006): e15.
Ogino, Yoichiro, et al. "The contribution of platelet-derived growth factor, transforming growth factor-β1, and insulin-like growth factor-I in platelet-rich plasma to the proliferation of osteoblast-like cells." Oral Surgery, Oral Medicine, Oral Pathology, Oral Radiology, and Endodontology 101.6 (2006): 724-729.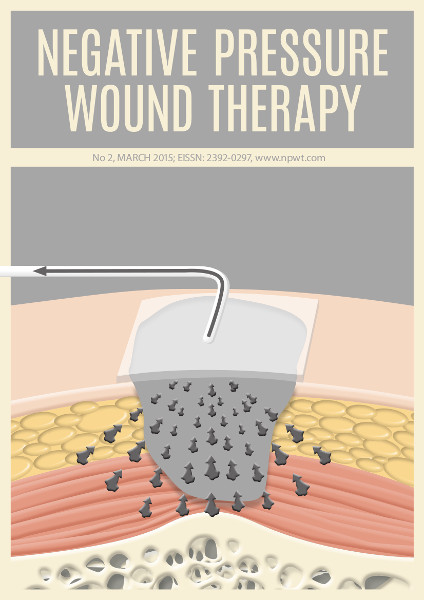 How to Cite
Zalita, P. (2015). A Case of Crush Injury of The Right Foot in a 26-year-old Man Treated with Platelet Rich Plasma and Negative Pressure. Negative Pressure Wound Therapy Journal, 2(1). https://doi.org/10.18487/npwtj.v2i1.11
Copyright (c) 2015 Pawel Zalita
This work is licensed under a Creative Commons Attribution 4.0 International License.
Authors who publish with this journal agree to the following terms:
Authors retain copyright and grant the journal right of first publication with the work simultaneously licensed under a Creative Commons Attribution License that allows others to share the work with an acknowledgement of the work's authorship and initial publication in this journal.
Authors are able to enter into separate, additional contractual arrangements for the non-exclusive distribution of the journal's published version of the work (e.g., post it to an institutional repository or publish it in a book), with an acknowledgement of its initial publication in this journal.
Authors are permitted and encouraged to post their work online (e.g., in institutional repositories or on their website) prior to and during the submission process, as it can lead to productive exchanges, as well as earlier and greater citation of published work (See The Effect of Open Access).
We require authors to sign a Publication Agreement prior to publication of the manuscript in NPWTJ. The link to this form may be found below.
PUBLICATION AGREEMENT FORM