Negative pressure wound therapy versus healing by secondary intention in pressure ulcers
Roberto Cirocchi

Popivanov Georgi

Ventsislav M Mutafchiyski

Military Medical Academy-Sofia, Clinic of Endoscopic, Endocrine surgery and Coloproctology

Andrea Boccolini

Department of General and Oncologic Surgery, University of Perugia, Terni, Italy.

http://orcid.org/0000-0003-4239-4477

Justus Randolph

Tift College of Education, Mercer University Atlanta

Lancia Massimo

Section of Legal Medicine, University of Perugia, Terni, Italy

Luigi Carlini

Section of Legal Medicine, University of Perugia, Terni, Italy.
Abstract
Pressure ulcers are a highly prevalent source of morbidity with an equally high incidence of up to 38.0\% amongst different categories of healthcare institutions. Therefore, the management and therapeutic approach toward these often hospital- or facility-acquired problems remain critical aspects of long-term care. Negative pressure wound therapy (NPWT) has proven effective in addressing the barriers to pressure ulcer healing including increasing blood flow to previously ischemic wound areas by generating subatmospheric pressure which vacuums in circulation. The objective of this study was to compare negative pressure wound therapy (NPWT) versus surgical wounds healing by secondary intention (SWHSI). A systematic literature search was conducted using the PubMed and Scopus search engine up until the 20 Th January 2017 including the terms: "negative pressure wound therapy" and "pressure ulcers". In this systematic review, six randomized controlled trials were included. NPWT is deemed appropriate and effective method and widely used by clinicians to promote the healing of wounds and ulcers of different etiology.  The heterogeneity found in individual trials regarding the inclusion criteria, therapeutic procedures, the criteria and methods of outcome evaluation, however, did not allow for a data evaluation with statistically valid conclusions. It is reasonable to assume that their subset of patients with pressure ulcers that can be effectively treated with NPWT, with optimal results and good cost-benefit ratio, also with respect to the quality of life.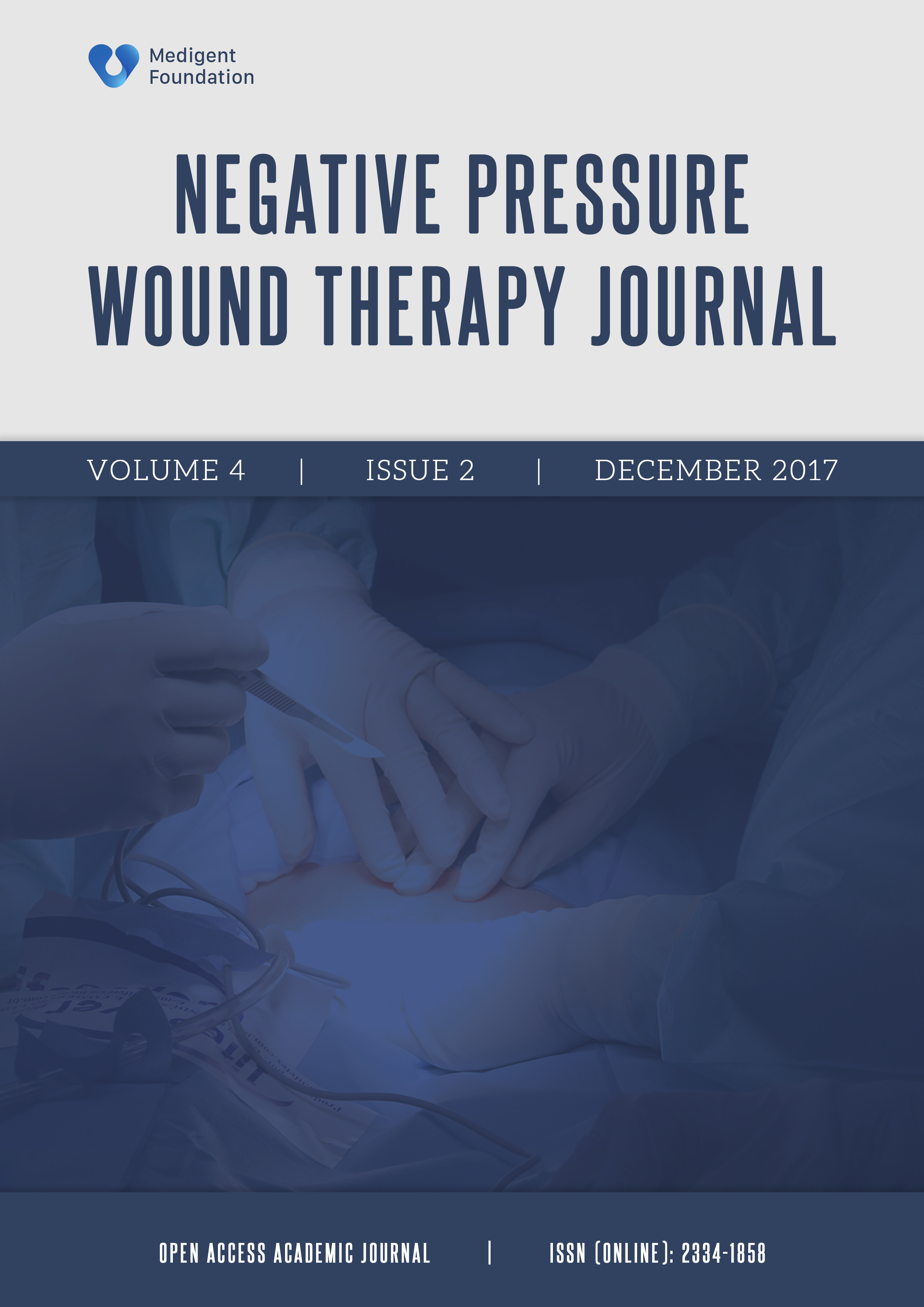 This work is licensed under a Creative Commons Attribution 4.0 International License.
Authors who publish with this journal agree to the following terms:
Authors retain copyright and grant the journal right of first publication with the work simultaneously licensed under a Creative Commons Attribution License that allows others to share the work with an acknowledgement of the work's authorship and initial publication in this journal.
Authors are able to enter into separate, additional contractual arrangements for the non-exclusive distribution of the journal's published version of the work (e.g., post it to an institutional repository or publish it in a book), with an acknowledgement of its initial publication in this journal.
Authors are permitted and encouraged to post their work online (e.g., in institutional repositories or on their website) prior to and during the submission process, as it can lead to productive exchanges, as well as earlier and greater citation of published work (See The Effect of Open Access).
We require authors to sign a Publication Agreement prior to publication of the manuscript in NPWTJ. The link to this form may be found below.
PUBLICATION AGREEMENT FORM